Erin Kennedy, MCD, CMRW, CPRW, BS/HR, is a Certified Master & Executive Resume Writer/Career Consultant, and the president of Professional Resume Services, Inc., home to some of the best resume writers on the planet. She is a nationally published writer and contributor for more than 12 best-selling career books, and is the author of hundreds of career-related articles. She has achieved international recognition following yearly nominations of the prestigious T.O.R.I. (Toast of the Resume Industry) Award. Find her on Twitter @erinkennedycprw.

Say you're looking at your resume and feeling like it's a little thin in certain areas. You've reread the posted description of the job you want, and you're thinking, "Well, I didn't do it, but my colleague did it, and I have a basic understanding of it. I can probably add it, right?"
Wrong. Little white lies on your resume can get you into very big trouble — and can possibly even cause you to lose the job you wanted so badly. So the question is: Is it worth it?
Be True To Your School
We see in the news that rich and powerful — seemingly untouchable — executives are getting fired from their jobs for including misleading information on their resumes. One of the most common areas people lie about is their education.
There have been a number of high-profile people (including Joe Biden) who have been caught out falsifying their educational credentials and degrees. If you've ever been tempted to do this, keep in mind that degrees are one of the things most easily checked on a resume. Colleges and universities keep this information forever.
There are also companies whose function is to check these credentials. To that end, the number of high-profile people caught out in this lie (and the bad press the company gets when this happens) has made more employers start checking degrees.
Get The Dates Straight
Listing years of employment, instead of months and years, can make it appear that you were at a company almost a whole year longer than you actually were.
Personally, I like adding just years. I think it makes the document look neater, more concise. However, be sure to know your exact dates of employment as some employers or HR managers may ask you for those dates — you will have to add them to the employment application anyway.
While you're at it, verify the dates before you put them on the application and make sure they match the information that your previous supervisors have. It would be embarrassing for both you and that supervisor when he or she is called for a reference, and your dates of employment do not match.
Stick To Your Duties
[pullshow id="suspicion"]Similarly, when an employee isn't performing as they said they could, employers have been known to dig a little deeper into past experience to expose the truth. Starting a job with suspicion over your head is never a good thing! [pullthis id="suspicion" display="outside"]If there's a duty listed on the job description that you never got a chance to do, don't list it on your resume![/pullthis]
When building your resume, focus on what you actually did in each position. If there's a duty listed on the job description that you never got a chance to do, don't list it — even if it's something you want to do, or think you can do.
You know to spell check your resume before sending; make it a habit to also check your resume for information that may be interpreted as lying or falsification. One small lie will lead to other lies which will quickly spread to more which will eventually catch up with you. And one small lie can eliminate you as a candidate, and ruin your professional reputation.
Editor's Note: How Often Do People Lie In Resumes?
Extremely often.  An infographic released by  Jobacle.com reports that, in the USA, 43% lie or stretch the truth in their resumes. It also lists the following five areas where lies appear: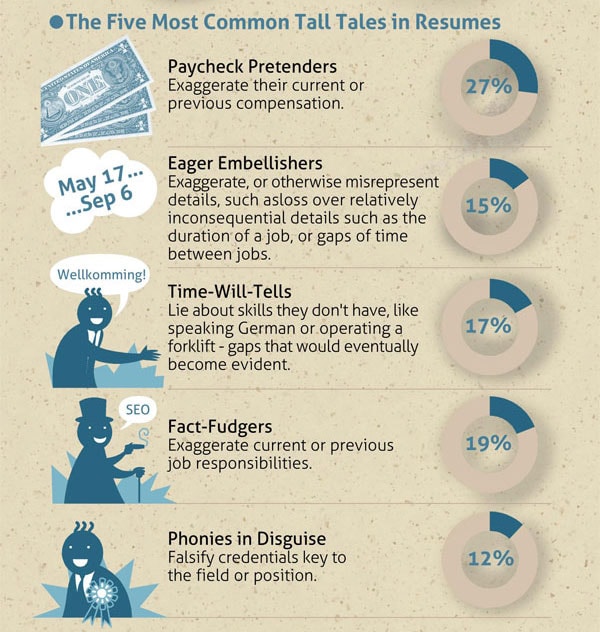 The bottom line is this:  Employers know that this is happening, and are going to be watching for these lies like a hawk!  Keep those resumes clean!
How do you toe the fine line between providing false information on your resume and branding yourself professionally?