Lea Green is the Content Director, Strategy and Communications, for
PGi
, and telecommutes regularly. Having been on all sides of the consumer story, she enjoys exploring the intersection of content, customers, and brands to create meaning in consumers' lives. With a background in advertising and content marketing, she strives to connect with consumers by distilling the complex into the compelling. She writes for and manages the
PGi blog
and is passionate about collaboration technologies, writing, art, yoga, and improving our planet's well-being. Find her on Twitter
@lelainey
.
In recent years, video interviews have become increasingly popular among job candidates and recruiters alike. Career Builder's 2011survey of key trends in business, hiring, and work culture ranked video recruiting fifth among the year's top hiring and workplace trends:
"With smaller recruiting staffs facing larger amounts of job applications, employers are turning to technology to help identify viable candidates. Six percent reported they have conducted video interviews with potential job candidates while 11 percent plan to do so in the new year."

Source: CareerBuilder.com
Naturally, wearing a suit and combing your hair are not the only considerations to keep in mind when attending a video interview. Live video conferencing provides employers a litmus test for how well you accommodate new situations as much as how well you prepared in advance; it provides unique insight into a potential employee's comfort with and adaptability to modern technology.
Regardless of the position, a candidate who adapts to the situation and demonstrates confidence with both the questions and the equipment wins a definite advantage. Performing well during a video interview suggests that you're a good fit with progressive corporate culture.
As with most things, there are rules you should know about video conferencing. Consider the following advice from our PGi HR recruiters — technology specialists trained in the video conferencing and web conferencing tools that we use and sell every day:
1. Know your position, as well as the camera's
Check your camera angle and lighting before the interview. Remember, the camera doesn't move with you, so be careful about what the camera is pointing at as you move around. A few of the recruiters who spend most of their day on video complain of the "Blair Witch" effect, and note distinct feelings of motion sickness when a guest adjusts his or her webcam to find that "perfect angle" during the meeting.
Of equal importance is lighting: film stars know and use this with dramatic flair, always taking it into consideration when the camera is on. Good lighting brings your features (i.e. your smile and the sparkle in your eyes) to life. You'll look fresh, attentive, and considerably more attractive. Dark or inadequate lighting casts unflattering shadows on your face — especially if you're looking down rather than directly at the camera.
Backlighting (when the light is behind your body) can create a "halo effect" (not the good kind – see the image on the right) that can obscure your features and make you seem like you're hiding from the camera. Place a light — a common desk lamp is fine — behind your computer, or use natural light if you're near a window, to achieve a flattering effect.
2. Don't primp during the interview
Are you having a "good hair day"? Be sure to check before you're live on camera. We know it's hard to resist, but primping in front of the camera not only conveys vanity but an overall lack of professionalism. Leaning into the camera to inspect your appearance and "zhooshing" can be distracting to the recruiter on the other side.
Instead of watching yourself on camera, watch the other person — keep your eyes pointed in the direction of your webcam and engage the interviewer as you would during an in-person meeting. When you see yourself, just smile confidently into the camera and don't worry if a hair or two is out of place.
3. Beware of unexpected visitors
The PGi recruiting team is unanimously a kid- and animal-loving bunch, but this one should go without saying: lock the door and keep pets and children (and other curious intruders) out of the room during the interview. Treat your video interview as a professional meeting, and save showing off your cute puppy for video chats with friends.
4. Perspective is everything
Beverages during a video interview are perfectly acceptable, but food is not. Also, if you take a sip of water from a bottle or out of a mug, turn your head sideways and away from the camera; it's amazing how big drink containers can look from the viewer's vantage.
And please – don't stand up or bend over. Without going into gory detail, keep the camera focused on your face. Video interviews are not an occasion to stand up and greet your interviewer. Remain seated, with your eyes forward and focused on the camera.
5. Be aware of body language
A colleague and I were interviewing a candidate recently who, while dressed in a suit and very professional, could not sit still! He bobbed and weaved and fidgeted so much that my coworker and I were having a side chat about how distracting it was! My takeaway here is to remember to find that balance between limited motions and appearing stiff.
Additionally, as you gain awareness and control of your body language, start looking for signals that your recruiter is sending as well. Remember, interviews are a two-way street, and you're here to learn as much as you can about how this career opportunity is going. Is the recruiter looking down while thinking of a response? Do they touch their nose or cover their mouth when they speak? These common nonverbal cues suggest that a speaker is not being honest. Some HD-quality video conferencing tools, such as iMeet, have a Spotlight Cube feature that allows you to enlarge any participant's cube, making it easy to read facial expressions.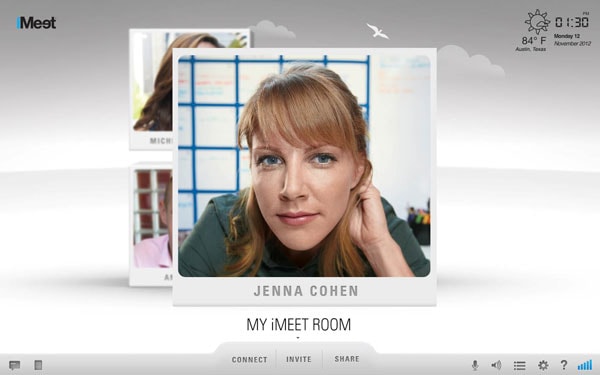 6. Your surroundings say a lot about you
If you take the time to tidy up yourself, why not take the time to tidy up your surroundings? One PGi recruiter tells the story of an iMeet video interview with a very professional candidate whose background inadvertently betrayed him. Behind him was an excessive amount of junk and clothes and a few exceedingly personal items.
Remember: keep it clean, keep it simple, keep it professional.
7. Don't arrive to video interviews early
The long-standing rule about arriving to an in-person interview 10 minutes early to demonstrate professional courtesy and enthusiasm doesn't apply to video interviews.
There is no waiting area for video conference interviewees; if you attempt to dial in early and your recruiter has a scheduled meeting prior to yours, there's a good chance that you'll be intruding — an awkward situation for both you and the interviewer. Try to arrive one or two minutes early at most. If you aren't already familiar the technology, practice during non-business hours to reduce the risk of irritating your recruiter before the interview begins.
8. Don't fidget
Ultimately, an interviewee must communicate enthusiasm, intelligence and interest in both the position and the company to which he or she is applying.
Although being nervous about an interview is common, looking distressed or unengaged can immediately sour an interviewer's impression of you. Additionally, while toe tapping or pen drumming might alleviate your anxiety, such nervous habits will not only give a bad impression, they can also interfere with audio clarity.
9. Create your own cue cards
[pullshow id="anticipate"][pullthis id="anticipate" display="outside"]As with any interview, you can't anticipate — let alone control — every facet of a video interview. What you can do is prepare.[/pullthis]The recruiter can see you and your backdrop but not what you have displayed on your computer screen. Use that to your advantage. Research the top interview questions in your field and anticipate the answers; check out the company and their mission; learn the industry and its the trends.
Next, type out a quick cheat sheet in Microsoft Word and have the file open on your screen right next to the video interview. Don't write complete sentences: you don't want the interviewer tracking your eye movements as you scan the text. Instead, create a few bulleted items than you can quickly glance at to help make yourself shine. Cheating? Sounds more like a leg up to me.
As with any interview, you can't anticipate — let alone control — every facet of a video interview. What you can do is prepare in advance and try to polish your image as much as possible. Always do as much research as you can about the company, the position, and interview strategies in advance. Take notes. Rehearse responses. Familiarize yourself with the technology in advance. And, if you diligently attend to the matters discussed above, feel confident in yourself… because confidence always looks good on screen.
Editor's Note: Would you like to learn more about the rise of mobility trends and their impact on the workplace? This recent report from Forrester reveals why information workers demand tablet devices: flexibility and collaboration. Ready to get a job? We've got people ready to help you. Check out a few of our featured jobs, or apply today!