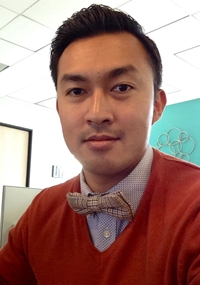 [accent]Tips from our Team is a series of short blog posts where members of our team share advice for job seekers and employers within the digital marketing and creative space. This month's edition comes from Jeff Bennett, Account Executive in our San Francisco, CA office. Jeff has been a Creative & Marketing Recruiter since 2007. With a degree in Design & Visualization, he has a keen understanding of the industry. When he's not Recruiting, he enjoys spending time with his lovely wife and two kids. He also loves full-contact origami and short walks on the cold SF beaches.[/accent]
Job Seeker Tips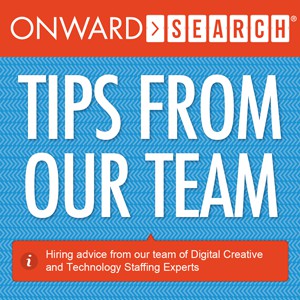 1. Portfolio
Please keep your samples on your online portfolio updated. You may have great experience according to your resume, but an outdated portfolio can certainly hurt your chances in landing your next project or position.
2. Resume
We all understand the need to keep a resume from being too lengthy, ideally 1-2 pages, but it's important to be as detailed as possible in that space. Include what your specific responsibility was, who you collaborated with, the types of campaigns/deliverables you've worked on, the success you garnered for your employer, etc. Also, always include your contact information. I'm sure you get bombarded by calls from millions of Recruiters, but if you're looking for a new opportunity, how can we help you if we can't reach you?
3. Preparation
Prepare to talk about an experience relevant to what the employer is looking for. Be structured in your conversation. This will help keep you from going off on a tangent and help you stay on the main subject. For example, if an employer is looking for someone with experience in designing a mobile app, be prepared to talk about your design process…of a mobile app.
Employer Tips
1. Don't lag
Speed is of the essence! Yes, it does sound extremely "recruiter-ish", but it really is important. If someone is interviewing, you can safely assume that they're probably interviewing at other places, and likely with one of your competitors, so don't miss out.
2. Keep the feedback coming
We are here to assist you in landing that Designer who can design AND is an awesome Front-end Developer.  Help us help you by providing feedback and updates as much as possible. A week without any updates will reflect poorly, not only on us, but you as well. No bueno!
3. Make sure you're ready to move
Are budgets approved? Are project timelines set? Do you have available times to interview? Can you really have someone in the seat "yesterday"? Make sure you're ready to move forward so when we find you the best of the best, you can snatch them up!
If you're in need of digital marketing, creative or technology talent in the San Fran market, connect with Jeff on Twitter @jefbenos or give him or a member of our San Francisco team a call at 415.772.9901.  Job seekers can search our nationwide jobs to see what's available and employers looking for talent can submit a request to their local market.