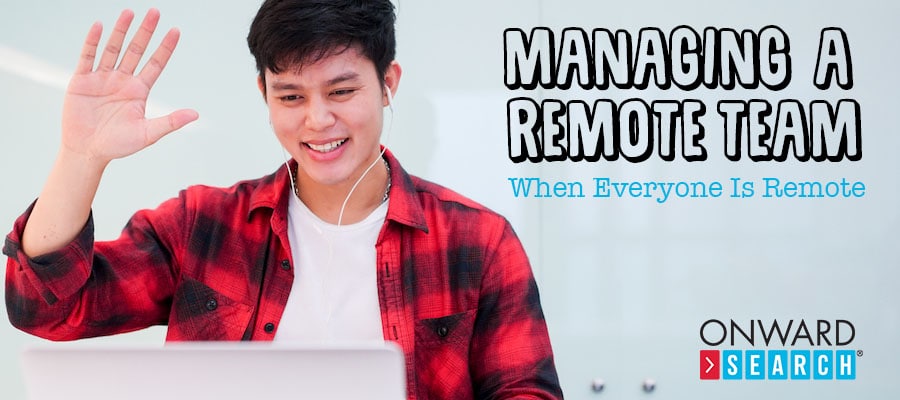 Managing a remote team has become a buzzworthy topic over the last few years. According to one 2019 study, nearly half of U.S. companies (45%) offer some level of remote work options to give their employees more flexibility and maintain a better work-life balance. That number has quickly shot up closer to 100% in the wake of the COVID-19 outbreak. So, whether you were accustomed to managing remote workers or not, it seems as though everyone is learning how to on the fly.
For those of you thrust into this situation, here is a list of tips for managing a remote team when everyone is remote.
Provide the right tools and use them wisely
First and foremost, you need to have the right tools in place to stay connected. More than likely you are already using Slack or Teams to communicate internally, so continue to lean on these. Make sure employees know which channels to go to for important information and establish places where they can just chat (#randomness).  It is also more important than ever to have a reliable video conferencing system for internal and external meetings. Just ask Zoom.us founder and CEO Eric Yuan who has added over $2 billion dollars and counting to his net worth in 2020. The key thing to remember is not all tools serve the same function. You should not have difficult conversations over a chat tool as emotions could come into play and people sometimes type faster than they think.
Set clear expectations and deadlines
Everyone has a different idea of what doing something "quickly" or "well" means. Ensure your workers know exactly what you expect of them during this time. Set daily or weekly goals and have them send regular updates. Unless necessary, don't stress if something is done by 4pm or 6pm. Give them the autonomy to work at their own pace. You may find that they are actually logging extra hours and being more productive. 
Have regular 1:1 meetings
Having your whole team remote presents a lot of challenges, mainly the opportunity to see and connect with each other during the course of the day. The opportunity to run into someone in the kitchenette and catch-up for 10 minutes is gone and must be replaced by scheduled one-on-one meetings. Whenever possible, this should be done face-to-face via video. Phone conversations, email, and Slack go only so far. Your team needs to see you, and you need to see them. Especially during this crazy time when we are not seeing much of anyone.
Step-up your project management game
Managing projects over email or Slack can lead to mass confusion on the current status of a project or where the latest spreadsheet is located. Going back to the first tip—now is the time to implement some kind of project management tool. Popular platforms like Asana, Airtable, or Trello, help keep you and your team stay aligned on next steps, expectations, deadlines, and ownership. Most of these tools also allow you to comment on tasks, reassign them, set deadlines, and attach documents or content which are all very important to keep your team aligned while they are no longer in earshot of each other.  
Communicate goals (and communicate them again)
Your organizational goals may have drastically changed over the past few weeks in the wake of the COVID-19 crisis. It is important that you communicate these to your team and let them know how it affects what you expect of them. This is a time of uncertainty for many workers, so more than ever employees want to hear how the company is doing and how they can help. If possible, set organizational goals every Monday and have a team meeting on Friday to recap how you did. If nothing else, it gives you a chance to get to the entire company together and…
Offer praise and recognition
More than ever, your employees need a pat on the back. They're isolated or alone and probably uneasy about the future. Most are probably working harder than ever to generate business, even though they may be coming up short due to the economic climate. So be sure to praise their achievements; even the small wins at this time are huge for team moral and momentum. Call them out on Slack, send a company email, or flash their face on screen during your weekly team meeting. They'll continue to run through walls for you if they see that their efforts are being recognized.
Reinforce company culture
Find ways to foster team events or water cooler moments during this difficult time—people need it more than ever. You can implement a dedicated video conference link for employees to use during lunch so they can simply see each other's faces and chat. Try having some weekly photo contests of your remote desk setup, your pets, or the funniest shirt you can find in your closet. Whatever you come up, your employees will probably be more receptive than ever!
Get feedback from employees
Finally, solicit feedback from your employees on how they're holding up. This is a difficult time for everyone. Take five minutes at the end of your one-on-one and just ask them how things are going. Are they clear on the team and individual goals? Are they getting what they need from you to be successful? Remember, you've most likely been thrust into this situation and you're learning on the fly. There's a good chance your team is chatting with each other behind the scenes about what's working and what's not. It's up to you to surface that feedback in a constructive manner and learn from it.
Again, most of us are adapting to this new style of remote management on the fly. If there are any takeaways from this, it's to build trust, foster communication, and focus on productivity by utilizing technology.
If you need help finding remote workers for your team, please contact our team.