GAME STUDIO STAFFING SUCCESS STORY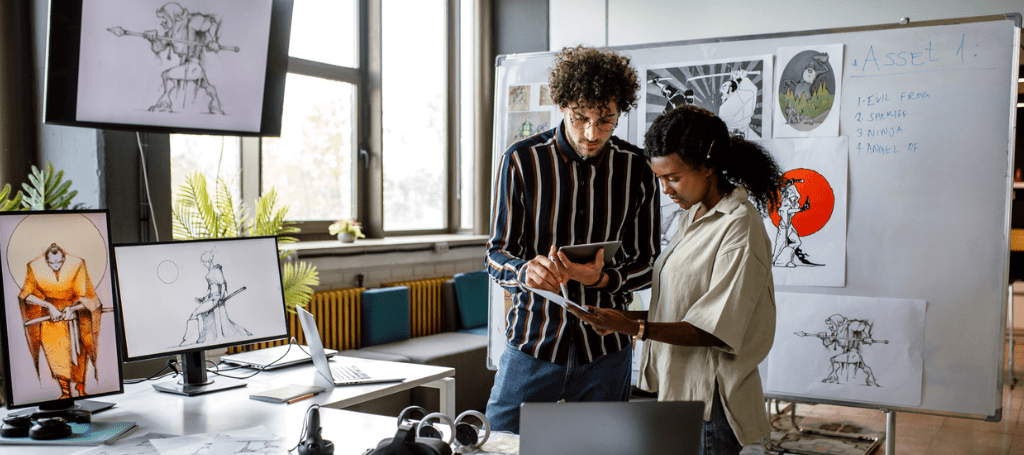 THE OVERVIEW
Combining video game industry experience with dedicated support, we became the #1 Talent Partner to a world-renowned AAA Game Studio, Publisher & Esports Tournament Organizer. 
THE CHALLENGE
Fill the roles that couldn't be filled. 
There are 3.2 billion gamers in the world today and over 180 million of them play our client's games. As a world-renowned AAA Game Studio, Publisher, and Esports Tournament Organizer with a rapidly expanding customer base, our client did not have enough talent on staff to meet their production timetables and the demands of their audience.
Yet, game development and production aren't the only mission-critical work that go on at top game studios. Our client required the best of the best experts across functions. Graphic design. Content creation. Digital transformation. You name it; our client's growth demanded it.  Their mission: develop, publish, and support the most player-focused games in the world.
To succeed, the studio sought professionals that fit the brand, mastered their area of expertise, and brought relevant experience.  More than mere recruiters, our client needed insiders who could understand the gaming space, recognize nuanced differences between resumes and spot right-fit talent when they see it.
THE SOLUTION
Industry insiders, power partners. 
We began by building a custom team of specialized recruiters equipped with deep industry experience and niche practice expertise. Over a series of strategy calls, our team gained a unique understanding of the studio's brand culture, hiring challenges, and talent priorities. Then, we tailored our plans to their needs and got to work.
Leveraging our performance-based hiring practices, thorough pre-qualification procedures, and extensive gaming talent network—we identified more right-fit job candidates than all our client's other suppliers. Our strategic recommendations empowered the studio to elevate staffing processes, optimize talent searches, and fill nearly 80 hard-to-fill roles. Morever, over 50% of our contract hires received extensions or full-time job offers.
Our talent helped the client evolve the most played PC game in the world and push esports forward. Today, they continue to produce player-focused gaming experiences at scale. In recognition of our contributions, the studio extended a '#1 Talent Partner' award to Onward.
"The people at Onward Search are true partners who take the time to understand our challenges and share their solutions."
– Supervisor, AAA Game Studio Client
BY THE NUMBERS
Relevant achievements and statistics to date:
Named #1 Talent Partner year after year 
Filled more open roles than ALL our client's other staffing suppliers
Fueled video game production with nearly 80 hard-to-find hires 
Earned contract extensions or full-time offers for over 50% of contract hires
Built a talent network of 2,000+ gaming & esports industry experts
BY THE SERVICES
Staffing solutions that we provide to game studios and esports tournament organizers:
Contract Talent
Contract-to-Hire Talent
Direct Hire Talent
BY THE CAPABILITIES
Specialty areas that we leverage to support game studios and esports tournament organizers:
Accessibility 
Audio & Video 
Content 
Creative 
UI / UX Design 
Gaming & Metaverse 
Marketing
Operations & PMO
Production
Technology
Digital Transformation
BY THE EXPERTS
Examples of roles we filled for our AAA Game Studio client:
Community Managers
Copywriters & Content Editors

Data Scientists & Analysts
Game Artists & Visual Designers
Game Developers
Game, Video & Esports Producers
Network & Infastructure Engineers
NOC Technicians
Project & Program Managers

QA Leads, Engineers & Analysts
Social Media Managers, Strategists & Coordinators
UI / UX Designers
---
Gamers know gaming talent best.
Our gaming division, Onward Play connects forward-thinking companies, game studios and esports organizations with next-level experts, advisors and new ways to get work done. Partner with us to level up your games and push immersive experiences forward.
Find your next game changer.
Connect with our gaming & esports industry experts.