Technology Staffing Services
---
A dedicated, centralized team focused on your organization's technology hiring needs.
Schedule a Call with a Staffing Specialist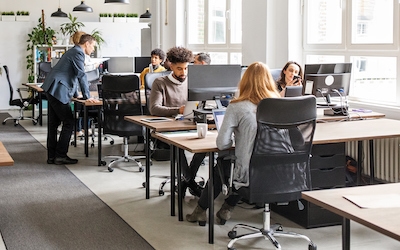 Specialized Tech Recruitment
We have the niche talent your company needs to implement new tech, improve data analytics, and build enterprise software.  We take the time to personally understand your unique candidate profile and company culture to provide you with the people who make a difference for your organization.
DATA SCIENCE
Data Analyst
Data Architect
Data Engineer
Data Scientist
Machine Learning Engineer
SOFTWARE ENGINEER
Applications Engineer
Applications Systems Architect
Full Stack Engineer
Software Architect
WEB DEVELOPMENT
Content Developer
C++ Developer
Designer
Graphical UI Programmer
Interface Designer
Python Developer
Web Applications Developer
Webmaster
MOBILE DEVELOPMENT
Android Developer
iOS Developer
PROJECT MANAGEMENT
Tech Program Manager
Tech Project Coordinator
Tech Project Manager
(Waterfall or Agile)
AGILE
Agile Coach
Product Owner
Release Train Engineer
Scrum Master
TECHNICAL SUPPORT
Help Desk
Installation Tech
LAN/WAN Administrator
Technical Support Analyst
DATABASE / BUSINESS INTELLIGENCE
BI Developer
Data Architect
Database Analyst
Data Warehouse
CLOUD
Cloud Engineer / Developer
Cloud Network Engineer
Cloud Project Manager
DevOps
ANALYSTS
Business Systems Analyst
Data Analyst
QA Analyst
System Analyst
NETWORK
Infrastructure Architect
Messaging Engineer
Network Administrator
Network Control Technician
Network Engineer
Systems Administrator
SYSTEM ANALYSIS / INTEGRATION
CRM Analyst
ERP Analyst
Systems Programmer
Systems Architect
SECURITY
Cyber Security Engineer
Data Security Analyst
Data Security Manager
IS Security Manager
Systems / Application Security
Analyst
FINANCIAL
AML Analyst
KYC / IAM Analyst
Quantitative Analyst / Developer
Researcher
Risk Analyst
C++ Developer
Python Developer
Don't see what you're looking for? That's not to say we can't help. Please contact us to find out.
FREELANCE
For one-time projects, scaling teams, extended absences and last minute demands, our freelance talent is available for your long and short-term needs and will help you get the job done.
TEMP-TO-PERM
If the talent you thought you needed for a short project turns into a long term need, or you just want to "try before you buy," we'll work with you to turn your freelancers into full-time employees.
DIRECT HIRE
Whether you've never hired someone with "those skills" before, or you simply need to focus your energy elsewhere, our perm team can help you secure top level talent that fits your organization.
Support
We provide you with a dedicated point of contact, supported by a specialized team of local and national recruiters, to deliver against your specific hiring needs.
Speed
We leverage our established networks of talent, their referrals, and active and passive candidates to ensure best-in-class time to placement.
Innovation
We utilize proprietary technology and unique sourcing methodologies to identify and attract the best talent to add to our pipelines.
Methodology
We evaluate each candidate based on experience, technical skills and cultural fit to ensure he or she is a potential match for your organization.
2020 Salary Guide
Download salary data for over 100 technology, marketing and creative professionals.
Schedule a Call
A member of our team will be happy to discuss your needs and see if we can be of service.