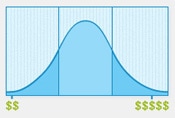 News Flash: Websites that are designed to provide a positive user experience are more successful than the ones that aren't!
OK… I know this isn't breaking news, but there is a lot about the UX industry that isn't common knowledge just yet.
For example, do you know what the difference is between a usability analyst and an information architect? If you're curious about what these professionals do and why they're in such high demand these days, you'll find our latest Career Center Highlight about high paying UX jobs very informative.
It contains information about 5 different types of user experience design jobs with salaries ranging up to $150,000 per year, plus a little summary of what each job entails.
Once you read the article and learn even more about the UX design field, share the info and impress your friends! Better yet, apply to the great user experience job opportunities on Onward Search and start your journey towards a very nice UX salary of your own.