Onward Search has won ClearlyRated's Best of Staffing Client and Talent Awards for for the 3rd year!
These annual awards recognize staffing firms that have demonstrated exceptional service quality based exclusively on ratings provided by active clients and talent. On average, clients and candidates of winning agencies are 70% more likely to be completely satisfied with the services provided compared to those working with non-winning agencies.
It takes talent to find talent.
At Onward, we've built our reputation around genuine partnerships with our clients and talent. We combine our deep industry knowledge with an unwavering focus on customer needs to craft seamless solutions. Our passion lies in bringing the right people together to thrive in the future of work.
Our job is to find your dream job.
If you're a creative, marketer, or digital wizard—we know you because we used to be you. We won't just find your next job; we'll find your dream job. Partner with us for career-changing opportunities at the nation's leading brands.
We don't just search, we solve.
We are more than recruitment specialists; we are industry veterans, workforce advisors and caring collaborators. Partner with us to connect with remarkable talent, build scalable teams and power strategic projects.
Serving your modern workforce needs.
The world is changing. So are we. Onward Search has expanded its brand family to meet the growing needs of the nation's leading companies.
Our specialties, your priorities.
5

Accessibility

5

Content

5

Creative & Production

5

Experience Design

5

Gaming & Metaverse

5

Marketing

5

Operations & PMO

5

Technology
Our new study examines how remote and hybrid work will impact candidates' decisions as they navigate their careers. Learn what you can do to ensure you attract the best candidates in 2022 and beyond.
View salary data and hiring insights for over 100 creative, marketing, technology and gaming professions. Learn how the benchmarks have changed with the market, see the impact of inflation, and explore the latest data to thrive in a new era of pay transparency.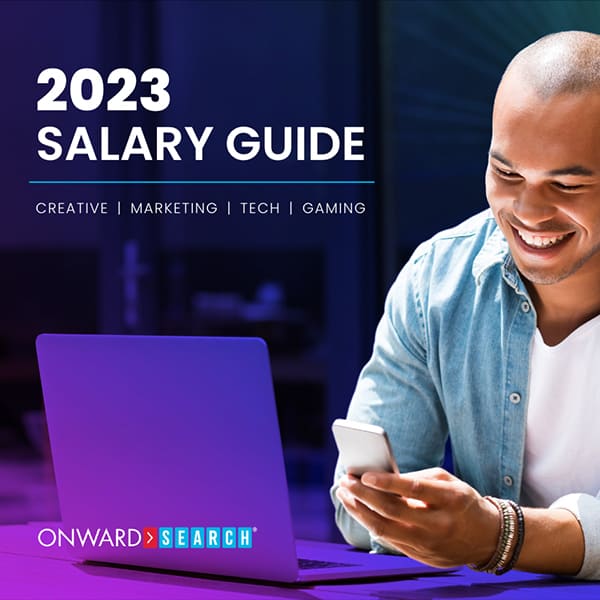 Whether you're one of our team members, candidates, or clients, we recognize that our success depends on yours. Thank you for recognizing us.