[accent]Web Analytics is the quiet hero of Internet marketing. From site traffic to social influence, companies need to know how and why their campaign moved their bottom line and a professional web analyst is just the person to ask about it. If you're considering a career in web analytics, ask yourself the following questions to make sure it's the right direction for you.[/accent]
Are You Really A Numbers Geek?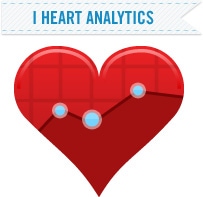 The term "geek" here is used not as a school yard taunt, but as a title of devotion and passionate commitment. Web analysts spend a lot of time crunching numbers, examining data trends, analyzing results and speaking in depth about their findings. If you don't have a real passion for the science and craft of numbers, web analyst may not be for you. (But if you're looking for something slightly more creative, have you thought about a career in PPC?)
Are You Ready To Invest In Learning?
Successful web analytics careers require a solid understanding of statistical, mathematical and analytical theories and tools of the trade. Familiarizing yourself with these aspects of the job may take some time, but your dedication will be worth it. Start by getting familiar with Google Analytics, the writings of Avinash Kaushi and become a regular at your local Web Analytics meetup. These initial steps will give you an excellent foundation to build upon.
Do You Have A Campaign To Start With?
The old conundrum of getting a job without experience and vice versa doesn't have to stand in the way of your budding web analytics career. All you need is a website to test on and Google Analytics. Testing and observing a campaign on your own will accomplish one of two things. It will either fuel your passion for the practice, plus give you something to show a potential employer in place of professional experience, or, it will show you that you aren't as into it as you thought you were. Either way, you'll be moving your career in the right direction.
Who Do You Know In The Industry?
The best way to learn more about working in a certain field is to speak to those that already do. If you know anyone who works in Internet marketing, then you can't be more than a few degrees of separation away from an experienced web analyst. Once you find one, ask them how they got started, what their favorite blogs are, what events they attend and most importantly, what they love/hate the most about their careers.
As with any career, examining the work, culture and rewards from all angles is the best way to get your feet wet. Whether it's Web Analytics or anything else, you'll never regret a little investigation before jumping into a career.