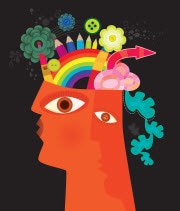 Until someone figures out how to bottle (and probably sell) inspiration, designers of all backgrounds must search for those elusive little sparks that keep their creativity flowing. Luckily we all have the Internet to tide us over in the mean time with a seemingly endless supply of creative resources for designers. Some are better than others though, so I pulled together my top 10 list of must read blogs for finding design inspiration.
(Don't see your favorite source of inspiration here? Tell me about it below!)
In no particular order…
1. PSFK – A world of design inspiration is at your fingertips here. The content extends far beyond the realms of web design and user experience, which might be what you need to break through a creative roadblock.
&nbsp
2. Onextrapixel – In addition to very helpful tutorials and articles about working in design, this site offers an entire section devoted to Inspiration.
3. Think Design Blog – Check this blog often for their regular feature, "Inspiration – The Work of…" if you want to soak in stunning collections and learn about amazing designers and illustrators from all over the country and world.
4.
Abduzeedo – You'll love the Daily Inspiration feature here that showcases the most inspiring images sent in by the sites writers and users.
5. Deviant Art – Browse through the content categories, which range from digital art and photography, all the way to artisan crafts, and you're bound to find the inspiring piece of work you didn't know you were looking for.
6. UX Magazine – User experience designers need inspiration too, and UX Magazine delivers some of the best guidance, how-to and thought-provoking articles out there.
7. Design Shack – This site features an impressive gallery of web design, logos and interface design guaranteed to spur your creative juices for any project you're working on.
8. Fuel Your Creativity – Just as the name suggests, you'll find plenty of news, tips, and feature articles about a full spectrum of design types to fuel your own creativity.
9. COLOURlovers – If you've ever had trouble deciding on the perfect color combination, scheme or contrast, this community driven forum for palettes, patterns and more is perfect for you.
10. Web Designer Depot – Web designers of all experience levels will find something inspiring here whether it's a beginner's How-To, 100 examples of dazzling interactive art, or a comic about dealing with clients.
What get's you inspired? There's no way my list covers all the most inspiring design blogs out there.
Leave a comment about your favorite source of design inspiration and how it helps you during times of creative block.