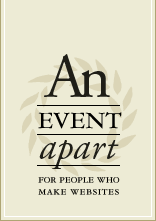 What do you get when hundreds of leading designers meet up to talk about their love of web design, usability and all the latest ideas and innovations in website design and development? You get An Event Apart, and members of the Boston Onward Search team were in attendance last week to hear the amazing speakers and mingle with some of the sharpest minds in design today.
I caught up with Doug Noble, Interactive Account Executive at Onward Search Boston, to find out what made the event so awesome when he attended on Wednesday, May 4th:
"Overall, it was a great event and content driven workshop. The first presenter was Jeremy Keith, a well respected Developer with Clearleft. Jeremy primarily highlighted the benefits and evolution of the latest version of HTML and how the evolution has focused on "Backwards Compatability" with older browsers and overall functionality.  There has been a movement to simplify syntax wherever possible, remove obsolete elements, update new elements, and tools such as Validators, etc…very technical, but interactive and useful information.
"Jeremy is a firm believer that we should ultimately be optimizing content/code for search-ability with humans as the target as opposed to focusing so much on algorithms and spiders. (This was certainly food for thought when you consider the SEO talent that we are placing on a daily basis.)  His argument was that the rankings would follow if end users where truly the "target audience".
"The afternoon session shifted gears to Exploring CSS3 which was presented by Ethan Marcotte.  Ethan is a well know local guy from Cambridge, MA, where he is the Interactive Design Director at Happy Cog as well as the co-author of Designing with Web Standards, 3rd Edition and contributing writer to Handcrafted CSS and Web Standards Creativity.
"Not to be outdone, Ethan focused his attention on all the new bells and whistles and the new overall "module" approach, in which each module adds new capability or expands upon features defined in CSS2.  These modules include things like Text, Image, Color, Animations, Transforms, and Transitions to name a few. The bottom line is that customization of the look and feel of web pages has never been easier. Essentially, the newest version of CSS has added flexibility, site-wide consitency, and easy formatting capability with few limitations and hiccups along the way.
"Ethan closed with some of the sites that include the latest and greatest trends and demos for developers to potentially utilize moving forward including: Matthewlein.com, Modernizr.com, Robertnyman.com and PaulIrish.com."
Hopefully Doug's recap has convinced you to keep An Event Apart on your radar and look for a show near you. If you want to talk about the latest trends in web design and user experience design from the show, or just in general, reach out to Doug and all the Onward Search recruiters. They're happy to chat about this stuff and help you find a great job at the same time!