[accent]A well designed website or application that effectively caters to its audience is a high priority for leading businesses these days. As a result, skilled professionals in the growing field of user experience design can earn a very respectable salary. Here are top paying jobs for Information Architecture, Usability, and UX practitioners plus reasons to explore each for your user experience design career – and bank your account! (Salary figures based on Indeed.com and GlassDoor.com data)[/accent]
User Experience Strategist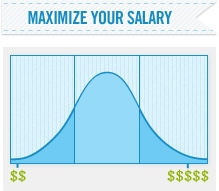 How do companies transform an initial business goal into a valuable user experience that champions a brand and satisfies customers? They hire a user experience strategist – someone who can flex as much strategic muscle as they can crank out wire-frames and personas.
These expert planners are paid handsomely (between $67,000 and $135,000 in salary) to put strategies in place that incorporate UX design, branding, development and more.
Usability Analyst
When user-centric design decisions need to be made, usability analysts are the go-to guys and gals. They provide the research that helps UX teams implement the best designs possible and report on what makes user experience designs successful, or not.
Providing this valuable information is worth an average yearly salary of $81,000.
User Interface Designer
No matter how awesome or useful a product or service is, if it isn't offered through a well designed interface, its marketability goes right out the window. UI designers ensure this marketability by designing web and mobile interfaces that support user goals and do so with ease and simplicity.
UI Designers can earn an average salary of $84,000 and upwards of $155,000 per year.
Interaction Designer
Much like the user interface designers, these professionals put themselves in the shoes of users to create the best user experience possible from start to finish. They examine products, improve user flows by creating scenarios/wireframes/mockups, and are integral to the design implementation process.
For their thorough involvement and contribution to the user experience, interaction designers can make an average of $91,000 per year.
Information Architect
With a focus on user experience, plus a firm grasp on data and development, an information architect ensures a company's infrastructure is optimized and efficient while it supports a highly usable experience for the customer.
Improving systems for customers and analysts alike earns information architects an average of $104,000 in annual salary.
Now that you've seen how well a UX job can pay, check out all the user experience job opportunities that are just waiting for your application!