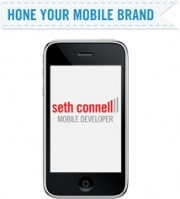 The latest Onward Search Career Center Highlight is all about how mobile developers can build an impressive personal brand.
This is a wonderful time to be a mobile app developer because there is no shortage of job opportunities these days. From financial organizers and fitness trackers to games and recipes, your mobile development skills are in high demand.
The question is, how are you going to stand out from the rest of your professional competition to win the contracts and jobs that are best for your mobile career?
As with all career paths, personal branding is the key to long lasting success. That's why we're offering this handy collection of ideas that will help any mobile application developer build an effective personal brand.
Check out the advice that ranges from networking basics to building your own tutorials. If you've come up with creative and unique ways to build a stellar personal brand that helped you land great mobile dev jobs, tell me about it in the comments below!