If you couldn't attend Adaptive Path's UX Week 2011, don't worry – we're happy to share some highlights with you from this fantastic event! UX Week remains one of THE premier events for user experience and design talent, and was once again filled with insightful lectures, thought provoking sessions, and a lot of fun and networking mixed in. Here's a recap of our time at the event, along with pictures and commentary from the Onward Search team.
The event was filled with a mix of sharp, creative UX talent, industry leading companies and some of the biggest names in the field. As you can see in the picture below from the Video as User Experience session with Adam Lisagor, there was a great turn out. Not only was this session outstandingly informative, Adam's delivery was described as a laugh riot.
Below is our San Francisco Team at the Onward Search hosted reception held at the California Academy of Science. From left to right is Account Executive, Jeff Bennett, Regional Vice President, John Poore, Social Media Recruitment Coordinator, Katie Clark, Director of Staffing Services, Terra Dehnert, and Business Development Manager, Rita Radics.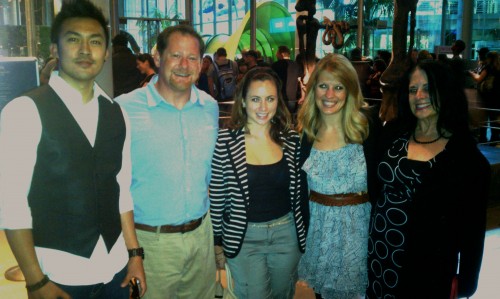 Onward Search's Chief Operating Officer, Ken Clark (far left) joined the San Francisco team for the event and had fun with Jeff and John checking out all the prehistoric sites.
One of the biggest reasons to attend UX Week 2011 is the fantastic workshops which are far more in-depth than you might find at other industry gatherings. Here's an example of just how hands on it gets, thanks to Terra Dehnert. This drawing comes from the Seductive Interaction Design workshop led by Stephen P. Anderson.
Terra said, "I attended the "Seductive Interaction Design" workshop and it was awesome – just enough learning split up with hands on design. Geurilla research methods was also fun – going around and testing our paper prototypes on innocent bystanders on the UCSF campus."
As sponsors of this event, we had such a great time! Here are Ken, Katie and Terra at our booth where the entire team was mixing it up with talented UX professionals and representatives of companies from all across the country.
We'd like to thank everyone involved in the event, especially Adaptive Path for organizing it, and everyone we met for making UX Week 2011 such an informative, memorable and fun time. Want more details about how awesome this event was? Check out the Workshops page for slides from select workshops at UX Week 2011.
If you couldn't make it this year, why not start making plans right now to attend next year? If you're at all interested in UX and design, you won't regret it!