[accent]If you want that competitive edge in your search for a web developer job, look no further than The Onward Search Most Requested Skills List for Web Developers. This list reveals the skills that appeared most often in Onward Search's web dev job positing in 2011. Each skill is high on the list for hiring managers, so study the list, note our recruiter's advice and get ready to ace your next interview![/accent]
CSS, HTML and JavaScript – The Front-End Trinity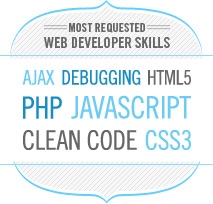 This may seem obvious considering how fundamental these skills are to web development, but our numbers prove that more employers are looking for developers who rock the basics above all others. "These skills ensure a website that is dynamic, interactive and elegant, but also accessible on mobile devices, as well as tablets," said Terra Dehnert, Director, Staffing Services at Onward Search San Francisco. While CSS, HTML and JavaScript aren't new by any means, the qualities and characteristics they provide are essential to a successful website, so be ready to speak to those ideas during your interview. It will be music to the interviewer's ears.
Ajax – Keeping Up Appearances
As the value of a beautiful, usable, and now mobile, website continues to rise, so does the importance of understanding Ajax. Businesses need developers who are well versed in Ajax because they need their applications, whether on the web or mobile devices, to be fast and more robust than their competition. Sales can be lost and visitors might not return if a website is sluggish and clunky, so why not tell your interviewer about how important you think Ajax is? If you haven't brushed up on your Ajax knowledge in a while, don't schedule your next interview until you do.
PHP – Tried and True
There are so many reasons why this server side scripting language is popular among hiring companies. "It's free, it's fast, it's flexible across most browsers and it's the perfect choice for companies who want e-commerce and social media solutions," said Frank Nicolia, Creative Recruiter on the Onward Search Chicago Team. WordPress, Joomla and Drupal are all based on PHP and it comes in handy when building Facebook applications. All this makes it a very attractive skill to hiring companies who want to keep up on the social and e-commerce fronts.
HTML5 – The "New" Kid
If you aren't working with HTML5 yet, what's stopping you? Knowing how to work with HTML5 means you can create stunning Flash replacements that are SEO friendly. "Most browsers now support HTML5 and companies are looking for developers NOW to help carry their website into the next era," said Kate O'Connor, Interactive Account Executive at Onward Search Boston. Don't forget that HTML5 enables you to build apps for both iOS and Android. That makes you an incredibly valuable addition to a team, especially for a business that wants to ramp up the visual appeal and mobile presence of their product or service.
Softer Skills – Hygiene and Awareness
How much pride do you take in the cleanliness of your code and the thoroughness of your debugging? Are you ready to talk about knowing who your audience is, what browsers they use and what trends are driving innovation in web development? Smart companies know that hiring a web developer is about more than just functional pages and queries. Showing off how professional and informed you are will bring you much closer to landing a web development job than the hack who just interviewed before you.
While you may know how to be a web developer, you need to know how to play up specific strengths during your jobs search if you want to land your next job. If you're not sure what's in high demand in your area, justcontact your local Onward Search recruiter. They'll be happy to give you the inside scoop and connect you with a fantastic web dev opportunity!