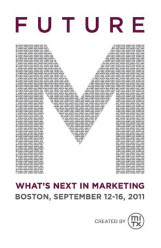 Do you feel like you're missing something? Perhaps you're craving something digital, driven by technology and fueled by pure unadulterated innovation? Look no further than FutureM, the killer intellectual marketing mash-up event taking place this week in the great city of Boston, MA. From September 12th to September 16th, there are well over 50+ amazing events to attend that answer the question, "What's next in marketing?" and the Onward Search Boston Team is there!
Created by MITX in Cambridge, MA, and sponsored by Hill Holliday, Boston.com and Forrester, FutureM is not to be missed. Sarah Wilkins, Senior Business Development Manager at Onward Search Boston, recommends anyone in the Boston area (and beyond) should attend because, "it's one of the few times you can get in front of THE people who are at the core of Digital Marketing in Boston – the pioneers who helped build agencies, companies, brands, etc.,  from the ground up and you get to rub shoulder's with them!"
The opening Night Party hosted on September 12th at the Back Bay Events Center was attended by nearly 300 future marketers and sponsored by Arnold Worldwide, Compete, Trip Advisor and Webster Bank. While the Mayor of Boston, Thomas M. Meniro, wasn't able to attend the festivities for opening remarks, the event kicked off with an impressive list of speakers including Rishad Tobaccowala, chief strategy and innovation officer at VivaKi, Carol Kruse, SVP of marketing for ESPN, Jessica Greenwood, director at Contagious Insider, and Frank Rose, author of The Art of Immersion (our Boston Team was able to snag a signed copy!)
If you couldn't make it Monday or Tuesday, you can still buy a pass and enjoy 3 more days of amazing digital marketing insight and professional networking opportunities. Today is the last day to purchase tickets to attend Beyond Cause Marketing where leaders from across the country will gather in Cambridge to define the future of cause marketing. For the remainder of the week, there will be more discussion about display advertising,  social media marketing, mobile commerce, and digital technology than you can shake your smart phone at.
So if you're in the Boston area, and you love all things digital/mobile/social, but you haven't purchased your pass yet, what's your excuse? The Onward Search Boston Team is looking forward to seeing you and chatting you up about all the amazing digital innovations taking place in Boston!