With the Thanksgiving holiday just a few short days away, everyone here at Onward Search is reflecting, and acting on, the spirit of giving. Employees from the Corporate Headquarters office in Wilton, CT were proud to once again open their closets and give the gift of warmth to those who can't afford it through the Bridgeport Rescue Mission Coat Drive.
Each year before Thanksgiving, the Bridgeport Rescue Mission collects donations of coats, hats, scarves, and other outerwear items for men, women and children who are in need as the temperatures here in Fairfield County, CT start to drop. The Bridgeport Rescue Mission assists hungry, homeless, and addicted people in this area all year round, but makes a special plea for donations this time of year to ensure everyone's holiday season is as warm and merry as possible.
Since the huge piles of donations were picked up when I was out of the office, I decided to take a quick trip up to the Mission to speak with the organizers and see the giving spirit in action. I was greeted by Donna Romano (below), Communications Manager for the Bridgeport Rescue Mission.
Donna was happy to show me around the collection and distribution area that housed an impressive amount of coats. Each of these coats were just moments away from meeting grateful new owners when I took these pictures.
Before the Onward Search donations were gathered up last week, these bins were overflowing into the hallway.
As you can see, we are still gathering up warm gifts for the remainder of the week, and even received an unofficial endorsement from a very famous, but usually very quite, celebrity who hangs around the Wilton, CT Onward Search Headquarters. Here he is in Jeremias's office posing with approval next to the coat drive flyer.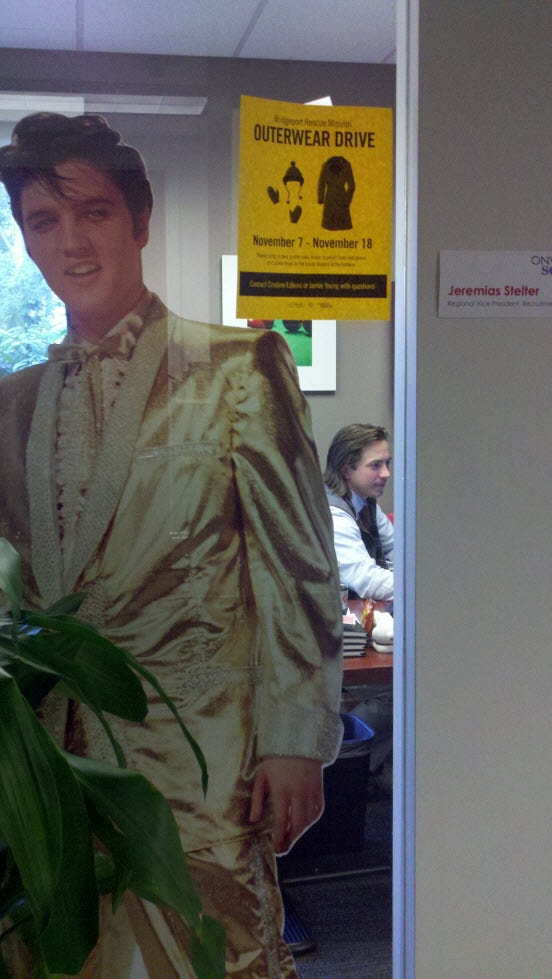 We hope our coat drive has inspired you to give a little warmth this year to those who need it in your neighborhood. If you'd like more information about the Bridgeport Rescue Mission, please visit their website, http://www.bridgeportrescuemission.org/.
We certainly have so much to be thankful for here – our families, friends, clients, candidates, and all the great fortune of the past year. From all of us here at Onward Search, we'd like to wish you a very happy, healthy, and warm Thanksgiving holiday!