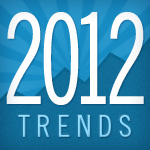 Getting a job in interactive design or development in 2012 is going to be a piece of cake, IF you've been keeping track of what's happening in the digital world. Understanding how these fields evolved in 2011 makes it easier to predict what hiring companies will want the most in 2012. As you plan your job search for the New Year, make sure you consider these trends while you're preparing your portfolio, interview approach and more.
UX will be priority.
As discussed in this recent episode of the Onward Search Career Cast ,Communicating the Business Value of User Experience, everyone was talking about UX in 2011, but there were still skeptics. We predict that in 2012, UX will receive all the respect and support it deserves, and on a much broader scale.
Within a corporate context, expect to see more people outside of design, or even creative teams, rallying behind the importance of UX. For UX professionals, this means it's the year to swing for the fences with bigger projects and ideas, especially in your portfolio and during your interviews. For non-UX designers and developers, take inventory of your user experience chops. Showing a prospective employer you understand UX and can create/build for it will keep you ahead of your job market competition.
The "Mobile First" philosophy of responsive design will take center stage.
2011 was nothing if not the "Year of Mobile." In fact, Google just summarized the significant growth in mobile technologies and development in A Look Back at 2011. As companies race to equip themselves with the best mobile offerings, they'll need innovative designers to help them meet the growing expectations of mobile users and customers.
If you already place your mobile users first when designing, you're ahead of the game. Top companies know what the mobile first approach means for their bottom line, so prepare for a warm reception from hiring managers when you show off your portfolio. If you haven't pared down and optimized your designs for mobile users yet, what are you waiting for? This shift in interactive design and development will only continue to gain momentum next year and you don't want to be left behind.
Everyone will need social skills.
Yes, we all know your job search is dead in the water if you don't have an established online presence, whether it's a great portfolio or a strong LinkedIn profile, but next year, it will take more than just a picture and a description.
The power and value of a socially fluid brand is obvious to everyone now, so more and more companies want to hire people that can easily become brand-ambassadors. Designers and developers of all backgrounds will have a better chance getting hired if they are socially fluent, consistently engaged in industry conversations and influencers within their immediate social communities.  If you haven't hung out on Twitter or Google+ recently, get back on there and start talking!
As a member of the interactive community, what are you looking forward to the most in 2012? Where do you anticipate your career will be a year from now? Tell us about it below, and if you want to find your next dream job, apply today and we'll connect you with the nation's leading companies.