Where Pinterest Fits With Your Career Search

For job hunters in the creative and digital fields, Pinterest provides the opportunity to create a social portfolio that showcases samples of your accomplishments – and builds your personal brand online.
Pinterest is rocketing itself into the social media scene with astonishing speed. Emerging from obscurity almost overnight, it's already #3 among social media sites – following close on the heels of the likes of Facebook and Twitter.
As the site's traffic and relevance continues to rise, entrepreneurial job seekers of all types are already beginning to pioneer the marketplace by building impressive (and sometimes viral) Pinterest portfolios. As Pinterest continues to make headlines in the coming months, the trend will transform into a standard.
While the most tantalizing portfolios are often made by graphic designers, anybody can create an impressive Pinterest resume with just a little due diligence. For example, check out these two excellent social media portfolios:

Credit & Permission: Rachael King — Professionally Social
Credit & Permission:  Sean X — SXC Marketing
Love it or hate it, we'd all have to agree that Pinterest is a unique, emerging medium. To create an effective resume, you'll need to reflect an intimate understanding of the community and how it works. If you're just starting out in resume-building on Pinterest, we recommend these steps:
Build A Resume – Pinterest Style
Before starting your resume, take a look at other Pinterest resumes for ideas and inspiration – you'll get a great framework to start with. And while you're building your board, bear in mind the "Three V's" of Pinterest boards:
Make It Visual: Pinterest is primarily visual in nature, and therein lies the challenge: a simple .jpg of your black-and-white resume won't amount to an impressive presentation. Draw recruiters and hiring managers into your portfolio by making sure every page you post has a relevant and interesting visual element. Uploaded images work well at 660 x 990 pixels, which keeps the text caption below above the fold.
Make It Valuable: Plan your board with the big picture of the story you want to tell to recruiters and hiring companies.  With this in mind, and create link paths from your valuable content to your most impressive work, including your personal website, examples of your work, a downloadable, a YouTube video, or to wherever else your most impressive content can be found.
Make It Varied: What can you show off besides your resume? This is a great chance to display your awards and testimonials, or to present your recruiters with a photo of yourself, examples of your high-profile clients, and more. Just be sure to pin items onto your board in reverse order – and remember that you won't be able to rearrange them later.  Also bear in mind that the most recent upload will be the thumbnail for the gallery – a photo of yourself or a highly-relevant graphic is the ideal choice.
If you're a graphic designer or illustrator, this is a fantastic opportunity to showcase your infographic resume.  Not only will it impress whoever finds your personal board, but they're also popular with Pinterest users, who will circulate them to boards all over the site, promoting you along the way.
Looking for inspiration for your own?  You'll be hard-pressed to find much better than these: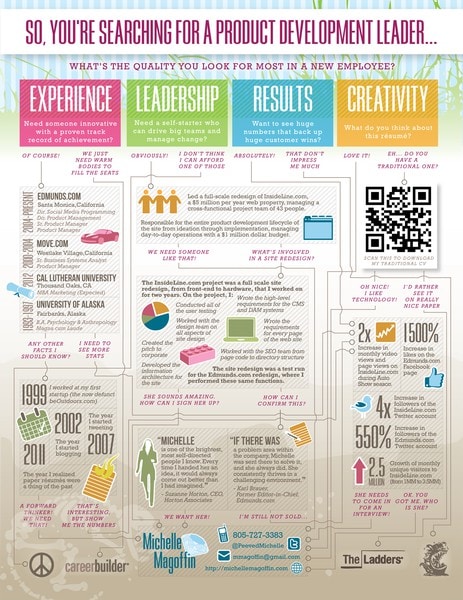 Credit & Permission: Michelle Magoffin — Web Consultant

Credit & Permission: Karen Loomis — Marketing Professional

Establish Your Personal Brand
Pinterest is, at its core, a creative and self-expressive medium. For your boards to fit in, you'll want to look well-rounded in your interests and tastes. Otherwise, you run the risk of appearing too pushy in trying to build the story of your career.
Take advantage of this! You have the unique opportunity to build your brand, make yourself memorable, and really stand out among the competition. Sell yourself with a catchy job title, establish yourself as someone of distinct and impeccable taste, and show off your charismatic, engaging personality.
A warning: don't underestimate the power of the image captions. Instead of the literal "My Resume, Page 1", think carefully about what you can write that's memorable, adds value to the image above, and/or stimulates a discussion. This is your chance to shine!
Continuously Update Your Boards
With the surge of "curiosity accounts" that have been added recently, Pinterest has its fair share of digital ghost towns and abandoned boards. Differentiate from them by making your Pinterest profile an ongoing project.
Never stop adding content to your account – and continue to crop, update, and improve on what's already there. Make sure that any text that's used is big and bold, so it can be read easily when it's shrunk down in size. And when you're building, build deep – not out. More than two rows of boards will be pushed below the fold, reducing their visibility greatly.
While you're at it, keep your network growing. Actively seek out the great resume builders and follow them, using them as a compass for what you should be doing to evolve your own. Following recruiters and employers will help to keep you visible to them, while keeping you on top of important news and opportunities.
Speaking of opportunities, if you're looking for a job in digital marketing or interactive, you've come to the right place! At Onward Search, our recruiters can connect you with prime positions throughout the country. Apply online today to get started!