If you're an ambitious, talented job seeker whose goal is to be happy, successful, and fiscally sound, it's absolutely vital to take a thoughtful look at every company you speak with.
Of course, if a company is worth its salt, it's been fiercely protecting its online brand and reputation for a very long time. Visit their site, and you can count on a carefully sculpted, corporate message detailing exactly what they want you to know.
To find out what's really going on behind those closed doors, it's going to take a lot more than just checking out their "About Us" page and tossing out a couple questions during the interview. If you're a potential new hire that's in the research stage, here are five great techniques (that don't include Google) that you might not have tried yet.
Get To Know Their History
If the company you're researching is publicly held, Wikipedia should be your starting point.
From the company's page, you'll find a complete overview and history of the company (often in a nifty timeline format), as well as a summary of companies they've acquired and/or have acquired them. In many cases, you'll even find a summary of the corporate culture in its own section. And because it's Wikipedia, each important point will be referenced with a handy link to a reliable article on the topic.
For a great example, check out the writeup on Apple:
At a glance…
Apple was founded in 1976, and went public in 1980
In 2011, they had $108.249 billion in revenue, and an operating income of $33.790 billion
They have more than 60,400 employees
This year, Fortune named Apple the most admired company in the world for the 4th time
If I were researching this company, I would also learn that Apple is a company that is known for fostering individuality within the team. Employees can expect to work within a highly specialized field, and do very little outside of their area of expertise. Additionally, I have a solid framework for the company already laid out, so I'll have a better understanding of where future information fits in as I continue.
Look Inside Their Office
Once you get through the doors, you'll want your full attention on making a positive impression with your interviewers. However, the temptation to look around and take in the details of your possible future workplace is going to be pretty strong. This is where YouTube comes in.
Companies love to make videos of their office space — especially those who have worked hard to give that workplace a signature look and feel. Looking your company up on YouTube and watching some of these videos can take a lot of the mystery out of those first few moments. For example, check out this Hubspot video:
Within minutes, I have some pretty solid information about all of the following:
Dress Code
Employee Demographics
How The Office Space Is Laid Out
What The Kitchen & Break Room Looks Like
The Corporate "Persona"
And while HubSpot looks like a great place to work, I've also seen some awfully bad videos that have made me decide I wasn't interested in working there after all.
See What Their Employees Think
Believe it or not, websites exist where you can learn about the company's culture from anonymous feedback from the employees. Sites like Glassdoor.com provide a wealth of information on specific employee salaries, as well as thoughtful feedback about the pros and cons of the company. Take, for example, the review of Quantcast:
After reading through the reviews, I get the following impressions:
Quantcast is growing fast — employees report lots of opportunity, and long hours.
The staff is highly talented and intelligent, and believe in their product.
Management is strong, and their CEO is excellent
The environment is casual but energetic, with catered lunches and company outings
Benefits and salary are less than competitive, but they offer strong stock options and great a healthcare plan
While individual reviews should be viewed with a discerning eye (watch out for postings by disgruntled workers or too-good-to-be-true reviews from the company's PR department), these sites provide a good place to search for patterns, identify some red flags, and to prepare yourself for what lies ahead.
Listen To The Industry Buzz
The speed of a tweet is faster than a seismic wave — tap into that power! When a company makes news, the experts within the industry will tweet about it right away.
This is your chance to see what the professionals think about the company you're researching. Are they citing the company as an industry leader? Retweeting their posts? Complaining about them? If you're lucky, you'll even find a few conversations like this: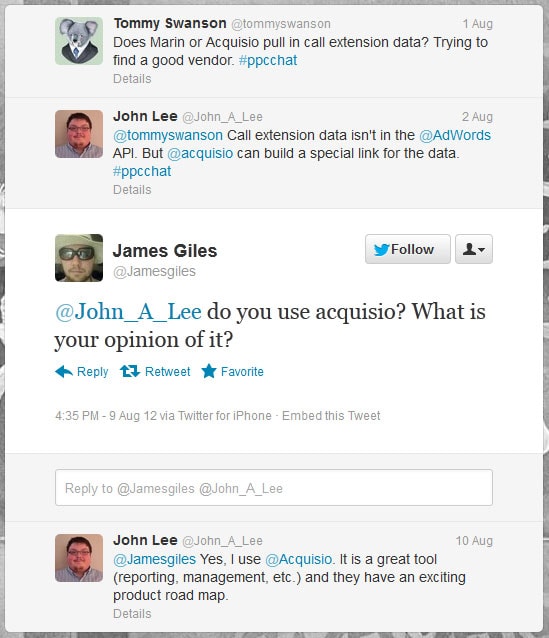 You'll also find out a lot about what's been going on with the company in the past few weeks, and how engaged the company is in maintaining their brand. Five minutes searching Acquisio on Twitter taught me the following:
Acquisio bought ScienceOps — and if the buzz is any sign, they buy companies often.
Industry leaders follow them, speak about them respectfully, and retweet them regularly.
They recently launched an online community to dialog with their customers.
Extend my search a little, and I was able to read the public tweets from several of their employees. This gave me a snapshot of how the employees interact with one another, what they're interested in, and also what they've been producing (and are proud enough to tweet about) for their company.
Stalk 'Em Like An SEO
Once you've tried everything else, it's time to use an old SEO tool to round out your knowledge of the company: Open Site Explorer. Created by SEOmoz, experts have long used this tool to find out who's linking to a given site — with those links put in order from the the highest-quality down to the lowest.
Using this tool to "stalk" a company will give you a full range of details about them — including blog reviews of their products, events they've been sponsoring, news related to the company, awards, social media accounts, business partners, clients, and more. The display the links and title text in the left column, and the anchor text on the right.
Check out what this tool gives us about Digitas:
In total, there were 6,432 links from 954 different domains returned. A quick look through the first 50 brought me the following:
OpenSiteExplorer is the multivitamin of good corporate research — if there's anything you've missed from the rest of your research, this fills in the gaps.
Want to connect with a great company? We're dedicated to connecting the best talent in digital, creative, and interactive with the best companies all over the USA.  Our expert recruiters are ready to help you get through the door with the best opportunities anywhere! To kick-start the next evolution of your career, apply online today!