[accent]SXSW 2014 is nearly upon us and we can almost see the mass crowds, smell the food trucks and feel the sleep deprivation. Over 30,000 digital creatives from across the US and around the world came together at last year's Interactive Festival and this year promises to be even bigger and better![/accent]
Starting on March 7th, we're excited to be attending SXSW Interactive for our third year in a row for five days of presentations from the brightest minds in emerging technology, networking events hosted by industry leaders and special programs showcasing the best new websites, video games and startup ideas the interactive community has to offer.
With all that's going on, it's very easy to lose track of time, schedules and perhaps even a few over partied colleagues. To make sure we get the most out of this year's Festival we decided to get smart and use our smartphones to help. Here are the top apps to help you nail it at SXSW 2014!
To start, we went right to the source. Download the official 2014 Mobile Guide to South By Southwest SXSW On The Go to browse the lineup and create your personal schedule, then login to sync it with your other devices. Find your friends and connections and see what they are up to, and network with thousands of other attendees. You can also find your way around Austin, navigate the trade show, stay connected to the social world and more!
FEATURES INCLUDED:
Schedule – Search/browse the entire event list.
Discover – Visually explore what's on at SXSW, watch videos and listen to tracks
Lineup – Browse the entire event list category.
Schedule – View sessions by day and create custom filters to find exactly what you are looking for. Access SessionLive to join the discussion and interact with the audience and presenters at select sessions.
Locations – Find venues by list or map, get directions, browse internal floor plans.
Attendees (SXSocial) – Activate your SXSocial account to network with thousands of other attendees.
Exhibitors – Browse trade show exhibitors and find them on an interactive map
My Favorites – Build your personal schedule and sync with your online account or between devices.
My Friends – See who you know at SXSW and see what sessions they are attending, then share your personal schedule with them.
This is your source for all the events at SXSW — including most of the unofficial ones. You will need to RSVP to most everything taking place using Eventbrite. So sign up, use the app to show your tickets and party on. Last year EventBrite had a full 778 SXSW events, a 20% increase from 2012, and they're expecting to show even more this time around. Find out about how they've improved the app since last year on their blog.
FEATURES INCLUDED: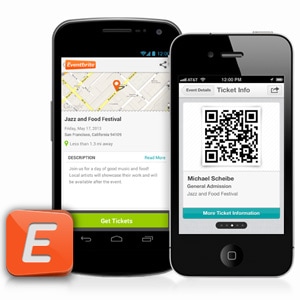 Discover – Find local events and register for events on the go.
Accessibility – Keep track of all your tickets in one place, and add events to Calendar or Passbook.
Search – Now see who's going globally, find event codes for exclusive access.
Personalized – Event discovery and personalized recommendations match your interests and passions.
Go Paperless – No need to print paper tickets — just pull up your tickets on your phone to check into events.
Share – See which events your friends are going to, and share events so nobody misses out on the fun.
Bizzabo Integration – a seamless flow from the moment you register to when they join your event's community via the Bizzabo app.
Bizzabo integrates social media to build highly-interactive event communities. A self-described combination of LinkedIn, Plancast, and Foursquare, Bizzabo's app allows you to sign in through your LinkedIn to search for events, share which you'll be attending, check in, and join event-networking communities. They've also built an event's social map for SXSW that'll help you find your way through what's going on.
FEATURES INCLUDED:
Discover – Discover relevant future events, and find out who else will be attending them.
Interactive – Interact with other attendees, and set-up face to face meetings on the spot. Get suggestions for interesting people, custom-tailored to you by your personal business profile.
Social – Use Twitter to be a part of the buzz, and leverage LinkedIn to keep in touch with new connections
Insightful – Get real-time event analytics and usage reports
EventBrite Integration – a seamless flow from the moment you register on EventBrite app to when you join your event's community.
Highlight is a fun, simple way to learn more about the people around you. If someone standing near you also has Highlight, their profile will show up on your phone. You can see their name, photos of them, mutual friends, and anything else they have chosen to share. When you meet someone, Highlight helps you see what you have in common with them. And when you forget their name at a party, Highlight can help you remember it.
FEATURES INCLUDED:
Connect – Get notified when friends and other interesting connections are nearby
History – Browse your history to see the people you were near earlier in the day
Privacy – Manage your privacy with easy-to-use controls
Share – High five, message, and post updates to the people around you
Updates include – Facebook login, sharing and posting photos to Facebook and Twitter, new map view showing people and events nearby
If you're at SXSW to connect with businesses, search for a job, or simply to make new connections, this app is a space saver. No one wants to carry around business cards, and then later manually put them into your phone, email contacts list or search for people on Linkedin. Simply take a picture of the card and it uploads it to your contacts and connects with the person on LinkedIn.
Now after leaving SXSW you won't be gazing at a business card trying to remember, where you met this person, why you took their card or trying to rack your brain to put a face with the name. This is an app you should carry around with you everyday not just for SXSW.
Just a heads up, this app is only available for the iPhone.
FEATURES INCLUDED:
Convert and Connect – Convert business cards to address book contacts, and then add them as connections on LinkedIn.
Search – View relevant LinkedIn profile info, connections in common and work history
Accuracy – Manual Transcription; every card goes through at least three human transcriptions, to ensure accuracy
No SXSW would be complete without a PARTY GUIDE! Shout 'Em had nearly 8000 downloads and over 250 parties listed on their Austin Party Guide App. There's even a blog inside the app that updates daily to give you the latest information on all events. You'll find every event from Drink-ups, film premieres, to label showcases–and the list grows by the day.
FEATURES INCLUDED:
Parties – Events/Parties schedule with location information and description.
Locations – A list of event locations and area nightlife spots, with map view, and in-app social network check-in.
Videos – Bonus footage from around Austin.
Connect & Share – Check-in to events, share pictures and comments with others in app, as well as on Facebook/Twitter. Add your party profile, so others can find you around Austin!
Getting around Austin can't get ANY easier than using Uber. All around the country you can use this mobile app help you request transportation in the palm of your hands. For SXSW, Uber will have 70 pedicabs on the system, several of the regular cars to take people further outside of downtown, and some surprises that people will start seeing during SXSWi.

FEATURES INCLUDED:
Convenience – The app lets your driver know precisely where to pick you up (geo-caching)
Easy – Simply set your pickup location in the mobile app, or through the mobile site m.uber.com.
Quick – Request about 5-10 minutes before needing a ride and you'll receive a text when your car or pedicab has arrived.
Ride for Free! – use the promo code RSVPSTER to receive a free ride (up to $15 off – valid through 3/14)
The downside to being so organized with all your cool new apps? They definitely eat up your battery life! So make sure you're fully charged each morning and if you start to run low, come take advantage of the charging station at the Onward Search booth # 646.
SXSW Interactive has become the place to experience a preview of what is unfolding in the world of technology and we can't wait to be front and center again! For more SXSW tips, news and UTD "what's happenings" follow the Onward Search Team on Twitter
Got anymore SXSW Tips? We wanna know.