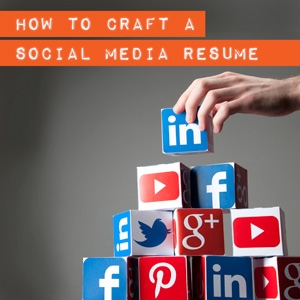 So you've decided to pursue a career in social media marketing, but is your resume ready to get potential employers talking about you? This top-to-bottom guide will help you craft a perfect career-launching social media resume.
Top – Start by Clearly Identifying What Your Social Media Forte Is
The objective, or summary, of any resume should identify a professional direction or focus for the reader. Instead of boasting a wide yet shallow familiarity with every single Twitter, Facebook and LinkedIn spin-off out there, you want your resume to showcase your most honed strengths and abilities.
Whether it is community management, video optimization, strategic social positioning or anything in between, narrowing down your resume with a clear objective/focus also improves your chances of being considered for more specific roles and being taken more seriously. (You can also customize your resume if you really are a Jack or Jill of all social trades.)
Middle – Use Your History Summary to Strut Your Stuff, With Numbers Please
As you present your experience with successful social media campaigns, think about what will really get a hiring managers blood pumping: numbers. The realm of social media is still new and there are plenty of "Gurus" and "Mavens" out there who talk a big game but might not be able to back it up.
Even if it's just a student targeted Twitter campaign that you got to trend for a few days or a boost in site traffic for a local charity you achieved through Facebook, it's better to show off your experience with measurable results and not just a list of socially charged keywords.
Bottom (And Throughout) – Let Your Presence Be Known!
If you work in Social Media, there's a very good chance you're online, a lot. Your resume should connect the reader to every single social space you touch so they can see all of your work, profiles and influence easily and quickly. This means you have to build (or have built for you) an online hub that connects all areas of your social media presence. Be it your personal website (pick up www.yourname.com for the best URL value) or a super charged WordPress, your hub should lead to your public, optimized and active presence on Twitter, Facebook, LinkedIn, Tumblr, Posterous, etc.
Landing an excellent job in social media just takes the experience you already have and a good understanding of how to present it to hiring managers. With the right resume, you'll be taken seriously and get jobs doing what you love! Check out these additional tips on making your resume stand out.
Related: Visit our Social Media Salary Guide.