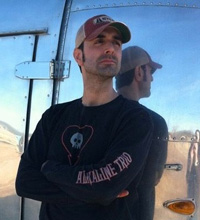 [accent]This month's tips come from Bret Cococcia, Director, Client Services on our Dallas team. Bret thoroughly enjoys building relationships and bringing great people together. He has 5+ years experience recruiting in the creative, interactive and internet marketing space; having placed top talent across multiple industry verticals. Bret has worked in a variety of recruiting environments including contingency-based firms, agency and corporate in-house. Outside of the office, Bret enjoys photography, road trips, live music and stressing over his fantasy sports teams.[/accent]
Tips for Job Seekers
This should go without saying, but arrive on time for your interview! Early is on time. Plan ahead and prepare accordingly for weather, traffic and getting lost. In many cases, you've already sealed the deal if you didn't arrive on time. Outside of a legitimate emergency, there is no excuse for being late.
Regardless of what you're accustomed to environmentally, or what you may perceive a particular environment to be; never, ever show up to an interview under dressed. You are always better off erring on the side of caution. A suit isn't always necessary, but being presentable is.
Have well-thought-out questions prepared to ask (and always bring a notebook). Your research will go a long way, as your interest in the opportunity/employer is just as important as their interest in you.
For Designers: Make sure your portfolio is up-to-date and make sure to list the URL on your resume and on LinkedIn. So many times I've seen job seekers fail to do this…and subsequently miss out on potential interviews!
The Hidden Job Market refers to opportunities that are not posted online or advertised. With that in mind, put some time into networking and getting referrals…not just on job boards (which only include 15-20% of what is actually out there). This approach will separate you from a large percentage of your competition.
Tips for Employers
Internal budgets are what they are, but it is important to do your research and learn the market value of the individual you are seeking. Otherwise, it will be a very long process, and you could ultimately hire the wrong person—forcing you to start all over again! Time = money.
Is the job description an accurate representation of what the employee will be doing day in and day out? This is critical, as I know many people who have resigned from new jobs due to "false advertising." Whenever possible, the hiring manager should be the individual responsible for writing the job description (or at least be involved as a key contributor).
Your company's reputation is just as important as that of the new employee you are seeking. In the same way you are able to conduct background checks and social media research on a candidate, they are able to dig up twice as much information about you. And obviously, the bigger you are, the more information that exists. Unfortunately, bad news travels more quickly (and easily) than good news. No company is perfect, so being prepared to handle certain objections when they arise will go a long way.
Be honest and straightforward about your environment and internal politics. When a candidate knows up front what he/she will become a part of, there is a greater potential for longevity (and happiness).
When candidates begin the interview process, set the agenda early on. Explain the next steps. Know your timeline to hire, even if it's an educated estimate. Good candidates are interviewing elsewhere—and will not be on the market for very long.
If you're in need of digital marketing, creative or technology talent in the Dallas market, or you're looking for your next great role, connect with Bret on LinkedIn or give him or a call at 800.231.7960. Job seekers can search our nationwide jobs to see what's available and employers looking for talent can submit a request to their local market.