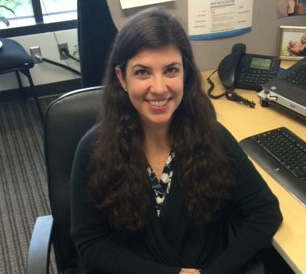 This month's tips come from Lisa Sullivan, an Account Executive on our Atlanta team. Lisa brings seven years of experience in the digital creative recruiting industry to her role at Onward Search. She earned her Bachelors degree from Auburn University in Alabama and in her free time she enjoys spending time with her family and watching AU football.
Tips for Job Seekers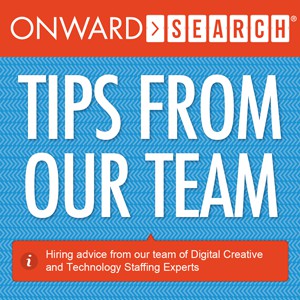 Be on time
The first impression is critical and being on time sets the tone. You should be sitting in the lobby at least 5-10 minutes before your interview. Make sure you know how to get to the location PRIOR to your arrival time by doing a trial run the day before so you know exactly where to go.
Follow up
Want to stand out after your interview? Send a handwritten thank you note to your interviewer. It shows not only your interest in the position, but also your thoughtfulness. Mention something that was discussed in the interview and don't be afraid to add your personality to it.
Practice makes perfect
You typically know what questions you are going to be asked in an interview, so practice your answers. Stand in front of a mirror and ask yourself questions that might be thrown your way. Have a friend throw out questions to you to see how quickly you can respond and think on your feet…then practice, practice, practice.
Tips for Employers
Prepare
Read over the candidates resume and your job description before the interview. Have a list of questions that you want to ask the candidates. Have a set amount of time that you want the interview to last.
Build rapport
Get to know your candidate as your walking to the interview room. Spend a little time getting to know them before you start asking the hard questions. Tell them about yourself and why you like working at your company.
Ask open-ended questions
Let them do all the talking. Dig in and ask behavioral/situational questions. This is the best way to learn about their previous performances. Ask questions that will help you identify if they are right for the job or not.
If you're in need of digital creative or technology talent in the Atlanta market, or you're looking for your next great role, connect with Lisa on LinkedIn, on Twitter or give her or a call at 877.662.9874. Job seekers can search our nationwide jobs to see what's available and employers looking for talent can submit a request to their local market.