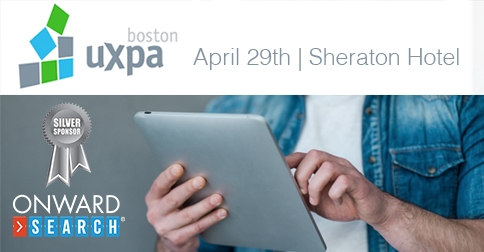 For the past 14 years, UXPA Boston has brought together every corner of the UX space–from designers and researchers, all the way to project managers, developers and even marketers–for a one day "whirlwind" of an event.
This Friday, April 29, marks the 15th anniversary of the day long conference that's filled with, but certainly not limited to, keynote speeches, presentations and practicums. And this year, as with many years in the past, Onward Search is a proud silver sponsor for this gathering of the UX community.
"All of the top companies we work with are searching for some form of UX/UI talent to improve how customers interact with their websites and mobile apps with the goal of creating an optimal user experience," said Onward Search Senior Vice-President of Client Strategy, Leanne Owens. "We are proud to sponsor UXPA Boston 2016 because we understand how important this conference is to further facilitating professional development and education within the UX field and relish the chance to interact with this community."
For the 15th anniversary of the conference, UXPA has brought in more than 30 UX speakers to educate and mentor attendees. Some highlights speaking slot highlights include:
Chauncey Wilson – UX Architect: Wilson will lead a mentoring session at 10:30 am, and will lead the closing keynote, reflecting on his 40 years in the UX industry.
Craig Lordan – IBM: Lordan will lead a session at 3:15 pm called "The 'User Experience First' Developer, which will highlight difficulties UX projects face when organizations arbitrarily reassign designers, developers and the like, and how IBM has remedied this conundrum.
Beth Ames Altringer – Harvard University: Dr. B. A. Altringer will lead an early, 9:15 am, session titled "Design as Strategy: Ways of thinking about designing for desirability." Her session will focus on integrating behavioral science into your UX Design.
Outside of the speeches, presentations, mentoring sessions and networking opportunities, Onward Search will also have a booth at the event, where UX professionals can learn about what we do and how they can leverage our services to land their next UX gig.
Those who visit the Onward Search booth will also be entered for a chance to win a $200 Amazon gift card.
To learn more about UXPA Boston 2016, click here.