Editor's Note: On June 24, Onward Search will sponsor the return of Evenings at the Loft—a design thinking salon founded by Kluge and presented by AIGA. We sat down with the event's founder, and Kluge CEO, Arturo Perez to get the scoop on who he is and how the Evenings at the Loft series came to be.
---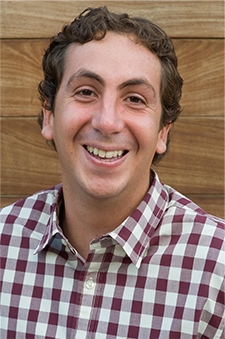 Arturo Perez is a man known by many descriptors.
He is a user experience designer, a writer, an entrepreneur and a pirate. Perez is a man who calls Los Angeles, California home–a home he traveled more than 3,600 miles to get to, because Perez is also a Venezuelan immigrant.
But outside of his work, his art and his journey, Perez identifies most closely with a descriptor few ever claim today outside of academia.
Arturo Perez is a philosopher.
3,615 Miles
Born in the capital of his native country, Caracas, Venezuela, Perez began his journey to the City of Angels when he was just a boy.
He attended La Salle High School, a Jesuit institution with academies throughout the world, and emigrated to the United States halfway through his freshman year. With the deck stacked against him, Perez and his mother knew they needed to take advantage of every opportunity at their disposal if they were to succeed and grasp the American Dream.
And so they did. Thanks to an almost ancient bylaw in the La Salle charter, the La Salle High School chapter located in Los Angeles was required to enroll Perez–mid-semester. He excelled.
Becoming a Pirate and Discovering a Philosopher
Perez didn't always consider himself a philosopher. He didn't always consider himself a UX designer, either.
At Loyola Marymount University, Perez studied business, tapping into an entrepreneurial vein that runs deep throughout his family. But it was the disruptive forces impacting the music industry that really caught his attention.
Rather than spending his time studying business plans and conjuring up the next multi-million-dollar idea, Perez was busy starting one of the internet's first music distribution channels –a precursor to applications like Napster.
"By 1997/1998 I had every single album ever made at my disposal," Perez said of the former piracy group known as "Kludge."
Perez, citing his affinity for the humanities and love of writing, quickly spun out his "pirate music group" into a full fledged music magazine. And while his side project as writer, editor and publisher of Kludge Magazine took away from his business studies, there was two courses at Loyola that Perez could never shake.
The first involved business. Back at LMU, in typical fashion, Perez fused his love of building businesses with his curious intellect to help his entrepreneurship professor publish a paper on piracy, which to this day is the most cited paper that professor has ever published.
The second, involved a bit of deeper, more abstract thought.
"Loyola is a Jesuit University, so they believe in [the education of the whole person], and one of the courses I was required to take was philosophy," Perez explained. "I would spend about six hours a day, three days a week, systematically meeting with my philosophy professor. I remember, because those were [all] of his office hours."
You do what?
Today, Perez doesn't spend his days pondering our existence, dreaming up utopian societies and identifying faults in our nature, as many of his philosophical predecessors did. Rather, his time is spent running a strategic design company called Kluge.
But ask Perez what he does, and the answer isn't as simple as building websites or creating apps for corporations.
"In the age of web 2.0, everyone wanted to begin building stuff," Perez remembers.
Excelling at entrepreneurship at Loyola, and with the ability to express his creativity, UX design seemed like the perfect fit. But Perez didn't want to just design for the sake of design. His business would not be a success until he made a major breakthrough, where he was able to bridge the gap between his profession–UX Design–and his passion–Metaphysics.
"Designers are ultimately about intention," Perez explained, "and so there is an intention to create an object, and what I talk about is that intention can come from a process, like a system, and an intuition where the source is a little unknown.
"The intuition is where the metaphysical awareness comes into play."
Perez, then, describes his work as being able to take something as small as UX Design, and allowing organizations to step back and look at it with a big picture perspective. He uses his philosophical mind to frame design strategies that help his clients drive business. But he's also taken this esoteric skill, and turned it into an outlet for constructive discussions within the local design community.
Spinning Passion Into Progress
To attempt to describe the field of metaphysics with concision would be a farce, which is why the topic is rarely broached in brief. However, to hear Perez speak to the connection of his work and his passion is to experience that passion first hand. Which is why his company's event–Evenings at the Loft–has become such an astounding success amongst the Los Angeles Design community.
Evenings at the Loft is an after-hours gathering that was begun by Kluge and held at their headquarters. Perez and his coworkers would invite members of the local design community to come and share food, network and most importantly, speak about design in a way many rarely, if ever, think to.
Kluge hosted ten salons in 2015 that covered a broad range of subjects such as ethics and design, the role mistakes play in design and aesthetics and design. After a brief hiatus Evenings was rebooted in February when Perez discussed the history of metaphysics and looked at the role that big picture thinking plays in design, and conversely the role that design plays in shaping how we think and interact within society. Throughout this discussion Perez made intrinsic connections to the work he and his attendees deal with on a daily basis. His goal: to help designers take a step back, and look at their work with a big picture perspective.
"So many people focus on the tactics, but the strategy (the philosophy) is what makes [the design] work in the big picture, and that's what we teach," Perez said. "it's strategy over tactics."
The Return of Evenings at the Loft
The Kluge event was such a big success that they quickly outgrew their space, and soon the events began to consume portions of their work-life as well. It was time to shut down, step back, look at the big picture and redesign.
Yes, Evenings at the Loft is back, "more focused and more intentioned than ever," according to Perez. With the help of partners like AIGA and Onward Search, Kluge is reintroducing the event at a new location this June.
To learn more about the history behind Evenings at the Loft, I highly recommend reading Arturo's blog on his passion project here.
And to reserve your ticket today to the June 24 event, visit the Kluge Eventbrite page here.