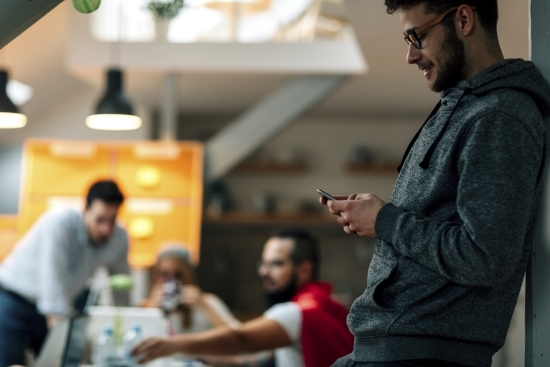 When it comes to winning top web, software or mobile development jobs today, the more you know, the better. What I mean by this, is that top businesses, brands and digital agencies are competing to hire development talent, and in order to be considered in these conversations with the best developers the industry has to offer, you'll need to diversify your skill sets.
While it's certainly important that you master your bread and butter skill set–whether that be HTML, C#, Java or any of the plethora of programming languages that exist today–you should also be expanding your skills by learning new languages, platforms and tools.
Luckily, as with most things today, there's an app for that! Below, we've rounded up three must have apps for growing web, software and mobile developers, that you'll want to download from the Google Play or Apple App store immediately:
Enki (Download for Android | Download for iOS):
This app aims to be "the 5-minute daily workout for your dev skills." Enki is a programming language training app that is geared for professional developers who want to keep their skills sharp, and even learn new ones, through a gamified learning model. The app allows you to track your progress, provides push notifications to remind you of "daily workouts," and even features an achievements-based reward system.
Plurarlsight (Download for Android | Download for iOS):
In 2016, digital creatives are expected to be jacks of all trades. However, learning new skillsets can be difficult, and at times very expensive. Plurarlsight aims to bring the latest tech and creative skillsets directly to your phone through video courses. Learn new skills like Angular 2 on the go, or pick up from your desktop and continue right where you left off.
SoloLearn App Suite (Browse Apps for Android | Browse Apps for iOS):
When it comes to picking up a new programming language from scratch, SoloLearn has you covered. Their suite of apps are free to use and teach the basics of a number of programming languages from HTML, to CSS, to C#, Python and many in between. They're a solid group of apps that every developer should consider when starting out with a new language.
Learning a new platform, language or tool might seem difficult, but apps like those above make it easy by putting these learning programs conveniently in your pockets.
At Onward Search, we encourage all of our candidates to continue their education, and even provide free access to Lynda to assist them in that effort. Want to learn more about the benefits you'll receive when working with Onward Search? Watch our latest video on Using a Recruitment Agency for Your Job Search.