Editor's note: This post originally appeared on the Digital Boston Blog, and was reposted here with the author's permission. You can read the original post here.

For many people October means carving pumpkins, getting your yearly fill of PSL'S and watching Hocus Pocus for the 1000th time (but, that might just be me…). But, for us here at Onward Search Boston, October means only one thing: OStoberfest–our biggest event of the year.
To help shed some light on one of the best celebrations of the year, I sat down with the lady at the helm of this "Yuge" party, Leanne Owens, to see just what's in store for attendees: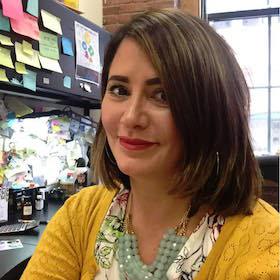 Question: What can we expect from this year's OStoberfest?
Leanne: Think of it like A BIG giant friendly beer hug with friendly faces and great music.
Q: Why Lucky's Lounge?
L: Lucky's is an Onward Search fave. We feel, out of all the Seaport hangouts Lucky's is what best represents who we are. That's why we ask you to join us there every year.
Q: Who should attend OStoberfest?
L: If you're a Digital Creative professional with pure intentions we welcome you with an open heart and your closed wallet (except don't forget to tip the bartender)!. Order what you want. Get a bourbon or scotch or whatever other libation you desire and make a new connection.
Q: Free food and drink sounds good to me. Any requirements?
L: Only requirement is to say hi to a member of the Onward team. We're friendly folk. We will probably find you first and shake your hand vigorously.
Q: Any tips for someone attending OStoberfest for the first time?
L: Dress lightly, lots of people attend and it gets hot. Good hot, but still hot. Come early too because you will be able to maximize your face time with one of the Onward Search Boston team (helpful if you need some freelance help or if you are seeking a new career opportunity).Dancing on the bar is not allowed but a love of 90's music is required. Lucky's is also a twerk free environment, so please remember that. You can definitely practice your ghosting skills at this event As long as you say hi, you don't have to say goodbye. Just do your thing, boo…We put the "uh" in Fun so just come join us and be a part of it!
We encourage you to make a new connection and enjoy a night out on us.
Onward Search Boston's 4th annual OStoberfest will be held on Oct. 20 at 6 P.M. Registration is free, but availability is filling up fast! To register email: ostoberfestboston@onwardsearch.com
Auf Wiedersehen and see you at Lucky's!