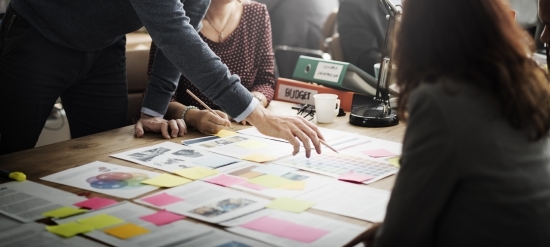 "This Week in Creative Staffing" is a blog series by Onward Search. Each week, we'll bring you a quick round-up of some of the most interesting, newsworthy and thought-provoking articles we've come across about the creative staffing industry, in the last week.
With that said, here's what you missed in the week that was:
Six Steps to Revenue-Boosting Lead Generation:
Did you know that 80 percent of B2B marketers say lead generation is their top priority, but less than a third are actually hitting their lead generation goals? MarketingProfs takes a look at how to be more effective with your lead generation marketing, and in the process highlight the importance of having a dedicated lead generation marketer on staff.
A Complete Guide to Getting a Design Job in 2030:
We talk a lot about design on the Onward Search blog, but our focus tends to be on what companies and talent need to know today. Fast Company has taken it one step (or 14 years worth of steps) further by attempting to answer the question "what will companies need from designers in 2030." With the rapid evolution of technology, this thought provoking piece won't just have you wondering what your company will need from designers in the years to come, but what you might be missing today as well.
Why Google is Retooling Search to Put Mobile First:
Those keeping an eye on SEO news will remember "Mobilegeddon" from a year ago–a term coined by tech bloggers detailing Google's decision to more favorably rank websites that were mobile friendly. It seems as if the search giant is out to shake up the SEO once more. Mashable is now reporting that Google plans to create an entirely separate mobile only index of sites, and that this index will serve as the primary index for search. Read on to learn more.
Diversity in the Spotlight at Grace Hopper Conference:
It's no secret that many tech companies today are struggling with diversity in the workplace, and that makes events like the Grace Hopper Conference all the more important. The GHC is a gathering of women in technology and not only serves to spread awareness of this growing population of tech talent, but is also rife with some of the best talent available today. There are a ton of insights to be gained from GHC, and you can read more about it here, as well as follow the conference on Twitter with #GHC16.
It is Now a Federal Crime to Bring a Galaxy Note 7 Onto an Airplane:
Just when you think things can't get worse for Samsung, the United States has now made it a federal crime to bring Galaxy Note 7s–famous for their explosive batteries–onto an airplane. While Samsung's woes continue (and the company takes a $3 billion hit), there's an important lesson to be learned for others operating in the consumer tech space: Good product design cannot, and should not, be undermined by speed-to-market concerns.
Want more creative staffing news? Check back next week for another round up, and keep an eye out for content for job seekers and hiring companies alike, on the Onward Search blog.