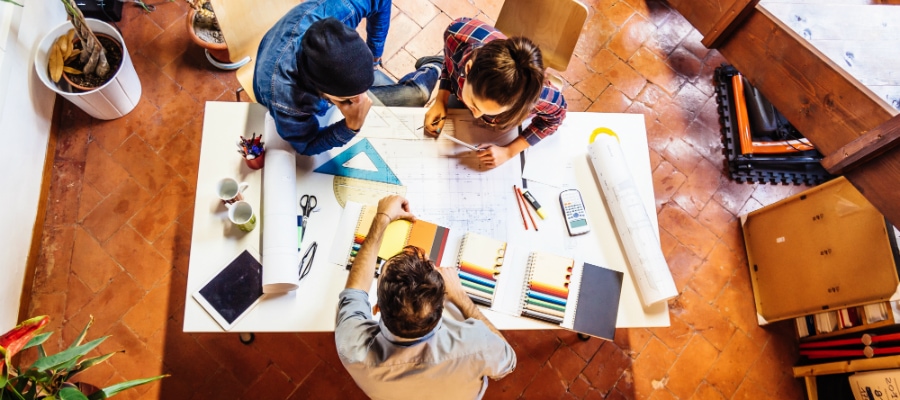 Thanks for coming back for another edition of This Week in Creative Staffing–Onward Search's weekly news roundup of important and thought-provoking content that matters in the creative staffing space.
This weekly column is your guide to recent and buzzworthy trends, insights and hiring advice.
Here's what we're reading this week:
Creating Brand Connectivity Through Design and Content Strategies
As the number of touchpoints a customer has with your business continues to grow through the proliferation of social networks and the next generation of content publishers, the need for brand consistency has become more important than ever. Bridging the divide between messaging silos is the first step to optimizing your conversion paths. Read on to learn how design and content together can accomplish this. (Forbes)
7 Things Frank Lloyd Wright Got Wrong About Design
Even America's most iconic designer didn't produce perfect designs, no matter how beautiful, innovative and inspiring the final product may be. Indeed, Frank Lloyd Wright did build more than his fair share of leaky roofs when it was all said and done. But in examining his mistakes, we can learn an important lesson: as important as design is, it still must go hand-in-hand with function. (Business Insider)
[Find and hire UX Designers, Marketing Talent and more: Freelance | Executive Search]
Agency Talent Is Increasingly Moving Client-Side
Stop for a second and think about the last important purchase you made. Chances are you read reviews, researched specs–you did your homework, and lost of it. What this buying cycle represents is the new reality for businesses of all shapes and sizes, and an organization's ability to control that buying journey is shrinking. Those responsible for increasing control of these conversion paths (marketers) are now flocking from the agencies they once inhabited to the offices of their clients. Read on to learn why the demand for marketing talent is causing employment disruption in the space. (Marketing Week)
The 7 Hottest Jobs in IT
The information technology space is rapidly growing and becoming an increasingly important piece to every business's puzzle. Unfortunately, the IT space has been hit the hardest by the skills gap–or the widening divide between businesses demands for a certain set of skills and the talent market's ability to fill those needs. Read on to learn which IT professionals are the hardest to come by today, and remember to consider Onward Select for your IT staffing needs. (CIO.com)
Want more creative staffing news? Check back next week for another roundup, and keep an eye out for content for job seekers and hiring companies alike, on the Onward Search blog.