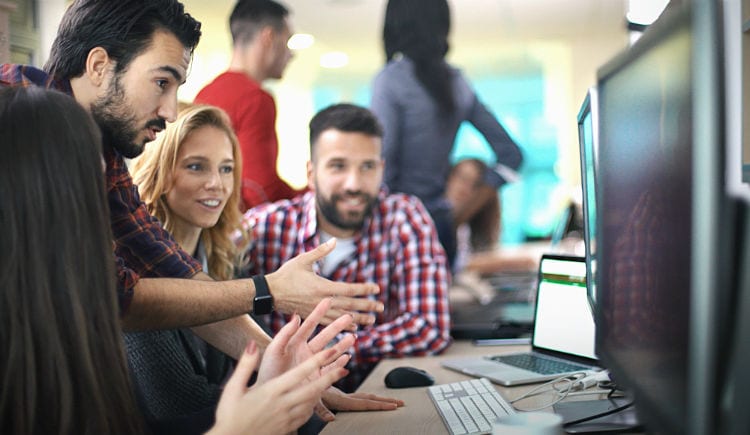 Thanks for coming back for another edition of This Week in Creative Staffing–Onward Search's weekly news roundup of important and thought-provoking content that matters in the creative staffing space.
This weekly column is your guide to recent and buzzworthy trends, insights and hiring advice.
Here's what we're reading this week:
Do Not Confuse User Experience With Customer Experience
In today's "me too" economy, where the sheer number of options available to consumers can be paralyzing, experience is everything. This is as true when customers are visiting your website as it is when they're taking a trip to your brick-and-mortar. However, when optimizing either, it's important to understand not only which kinds of projects you need to get done, but whom you need to get them done with. Read on to learn about the key differences between user experience and customer experience, and how each should be leveraged to drive business. (UsabilityGeek)
7 Essential SQL Skills That Can Help You Command a Higher Paycheck
Databases: They're the unsung heros of everything we do on the internet these days. But, more importantly, in an increasingly digital world they are becoming increasingly important to businesses and their success. That said, if you're a digital creative looking to beef up your earning potential by taking on new skills, there's no better language to learn than SQL. In this blog, Mashable breaks down some important skills that are growing in demand today and gives you a great starting point for tools to help you learn. (Mashable)
How to Hire Freelancers for Social Media Marketing
It seems like every other day that a new poll or survey is released noting how much more difficult it's getting to make quality hires. The fact of the matter is, in talent-constricted markets with unemployment at 4.3 percent, you need to be a full-time recruiter to find the candidates you're looking for. But, if you decide to go it alone, it's important to keep some best practices in mind. Here, you'll be able to pick up a few quick tips, specifically around hiring freelance social media marketers. (Practical Ecommerce)
4 Things You Should Consider Before Hiring
There's plenty of advice out there on hiring, but much of it is geared towards hiring managers in Corporate America. But what about advice for startups that are trying to scale their workforces? As the barrier of entry into business falls with each tech innovation, there are more startups than ever before. Fortune's "Entrepreneur Insiders" is a recurring column where startup leaders can share their insights. In this post, learn about 4 things you should consider before making your next hire. (Fortune)
---
Want more creative staffing news? Check back next week for another roundup, and keep an eye out for content for job seekers and hiring companies alike, on the Onward Search blog.