Onward Search is excited to announce that our blog was selected No. 6 overall amongst a list of 100 staffing industry blogs ranked by a Feedspot panel. The list of "Top 100 Staffing Blogs and Websites for Staffing Industry Professionals" was derived from search and social metrics and includes industry staples such as
Staffing Industry Analysts
and the
Staffing Advisors Blog
.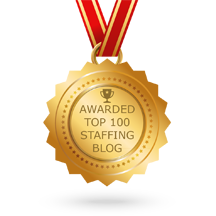 The Onward Search blog, which offers actionable content for job seekers and hiring managers alike, ranked the highest among digital, creative and marketing staffing agencies.
The full list can be viewed here
.
Feedspot is a company that has lead the way in evolving the RSS reader from a once-forgotten internet tool, into a go-to resource for curating a wide range of content. In building their list, Feedspot used a panel of judges who evaluated blogs based on a preset list of criteria.
Judge's picked blogs based on the following, according to Feedspot:
Google reputation and Google search ranking
Influence and popularity on Facebook, Twitter and other social media sites
Quality and consistency of posts
Feedspot's editorial team and expert review
With regard to the Onward blog, we're most pleased that our content was selected both for its quality and consistency. Our mission is to deliver job seekers and hiring managers alike with the content they need to make better decisions–whether that's helping someone navigate their job search more easily, or in helping another understand the exact kind of talent they're looking for.
If you're new to the Onward blog and want to know where you should get started, here are some of our most popular posts for you to consider:
Of course this is just a small sampling of the great content you can expect from Onward. To get even more helpful content,
check out our resources page
or sign up for future email alerts with content tailored to your needs.