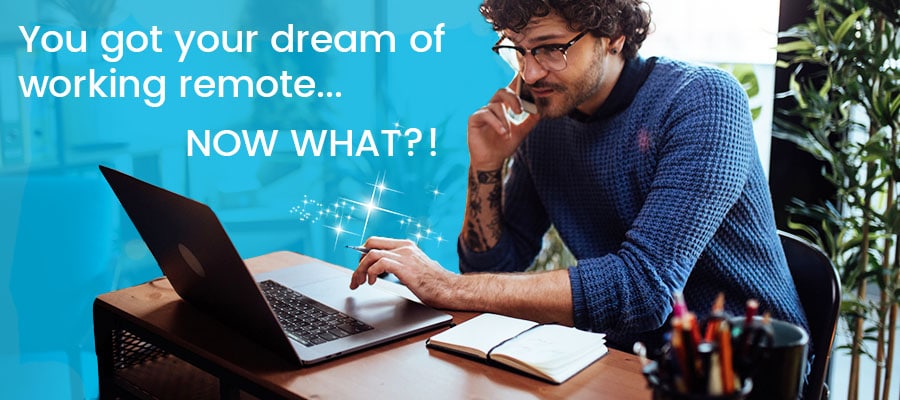 The thought of working remote always sounded 
great
, 
right?  
Wake up a
half hour later
, 
stay in your pjs, 
don't worry about traffic, and no distractions throughout your day. 
 In just the span of one week, millions of Americans are learning that life isn't so easy at home. 
 There are plenty of distractions—just one's we're not used to.  
For those fortunate enough to be able to relocate to 
you
r living room for next couple week
s, 
here are some tips for working remote to boost your p
roductivity at home.
  And by all means, please stay safe and follow all guidelines from the CDC and WHO.  
Get Dressed
Working from home doesn't mean you get to stay in your pjs all day. Successful remote workers construct a morning routine and stick to it. Workout, shower, make breakfast, and dress for work. These routine tasks will give you time to mentally prepare for the day and help you separate the professional part of your day from the personal. Plus, when you look good, you feel good! 
Create a Dedicated Workspace
This is a time when we've all been thrust into working remotely. Normally the advice would have been to have a private room in your house that would act as your office.  Unfortunately, this might not be feasible for everyone.  The key is to construct a dedicated workspace in your house away from distractions–that means you are not sitting on your bed or in front of the tv. Try using a folding table or repurposing your kitchen table for the time being.  Make sure you have proper lighting and surround yourself with things that you would normally have in arm's length at work.  
Stick to Your Schedule
You're home now, but most likely your role hasn't changed.  Plan your day just as you did when you we're in the office: adhere to your calendar, block out time for lunch, take a lap around your house when you get up to use the restroom.  Breaking up the day and moving your body enables you to refresh and can increase your productivity when you return to your work.  But don't pick up bad habits such as taking a tv break or doing household chores. If you couldn't do it in the office, then you shouldn't be doing it at home.   
Avoid Distractions
This is a whole new world.  Your typical daily distractions of getting caught up in the kitchenette hearing about your co-worker's daughter's basketball game have been replaced by an array of new disruptions. You may have children at home with you or pets.  Obviously their care and safety is of utmost importance, but that does not mean they should be on your lap during a conference call. You need to create separation to the best of your ability.  As said above, you should not have the tv on in the background, nor should you be being prepping your dinner at 3pm in the afternoon.   
Overcommunicate
This is always a good rule of life, but it applies now more than ever.  Set up daily check-in meetings with your co-workers and conduct them via video conference so you can see each other's faces.  We're all in the same boat and in need of human interaction now more than ever. Post your task list each morning and report in at the end of the day with what you accomplished. There is often a feeling of uncertainty around remote workers, especially in this current situation where it was not planned.  Make sure you are conveying to your team that you are focused on your deliverables and not missing a beat. 
Take Breaks
This post was put together to encourage productivity while working from home, but you may also find yourself staring at your computer screen for a longer period of time than you are used to if you properly minimized your distractions. Set a timer to get up and stretch every hour. Go for a walk around your yard to get some fresh air. Or what better time to start the 100 Pushup Challenge? You may also start to feel lonely or disconnected if remote life is new to you. So think of fun ways to stay connected to your teams–schedule a group video conference for lunch with those people you would normally sit with in the cafeteria or facetime with a friend when you are taking your five-minute walk around the yard. 
Stay Positive
Above all, don't let these circumstances get in the way of your happiness or productivity. Your greatest power is your perspective. This is new, unchartered territory for many of us, but we're all in it together.  The key is to embrace the challenge, stay focused, and deliver on your goals. 
If you need help finding remote workers to help your business through this challenging time, please reach out to us.  We'd be glad to jump 

on a call or video chat to discuss your needed and offer you some human interaction.