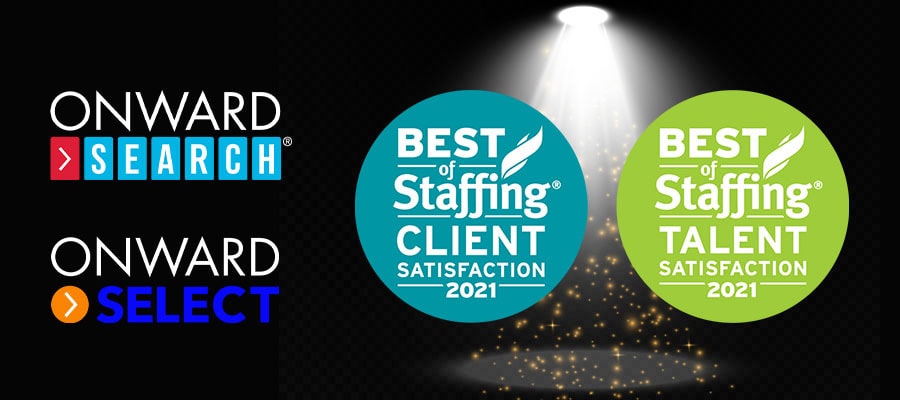 Thank you, thank you, thank you, you're far too kind!
This month, we were honored to receive ClearlyRated's 2021 Best of Staffing Client and Staffing Awards for Service Excellence for our Onward Search and Onward Select brands. This recognition is very special as it's based solely on the feedback of our clients and talent. We'd like to thank everyone who helped us earn this amazing honor by participating in the survey.
Why it's so important?
We provide amazing customer service.
This is one of our core values at Onward Search. We recognize it is the single most important thing we can do during every interaction with clients, talent, or each other, and it is the responsibility of every single employee in our company. This award validates our efforts and lets us know we are living up to this commitment.
What was the criteria?
ClearlyRated's Best of Staffing Awards are based on a company's Net Promoter® Score. NPS measures customer service and predicts business growth. It's rating for companies who want to deliver the exception service to their customers. It's usually calculated using a single survey question asking customers, "How likely are you to recommend a company to a friend or collegue?" and then the answers are scored on a 0 to 10 scale. The NPS is difference between the percentage of customers who are promoters (those who rate a company 9 or 10) and detractors ( those who scored 0 to 6 and are unhappy with a company's service).
How did we do?
We received a Net Promoter® Score of 70.7% from our clients, significantly higher than the industry's average of 28% in 2020. And from our talent, we earned a Net Promoter® Score was 72.8%, more than four times the industry's average of 18% in 2020.
What did people say about us?
We were thrilled that both our clients and talent raved about the service they received from our teams. This truly means so much to us! We were honored that they noticed our hard work and dedication to ensuring their experience with us exceeded their expectations.
How can we help you?
If you're looking for work or looking to hire the next game-changing talent for your team, we'd love to partner with you. We are truly passionate about connecting people with career-changing opportunities at great companies and helping our clients reach their goals by finding skilled talent for their teams. Let us showcase our amazing customer service to you. Fill out the form below, and we'll put you in touch with the right person.
How Can We Help?
Let Onward Search help you with your job search or hiring needs. Schedule a call with a recruitment specialist today.