A UX DESIGN STAFFING SUCCESS STORY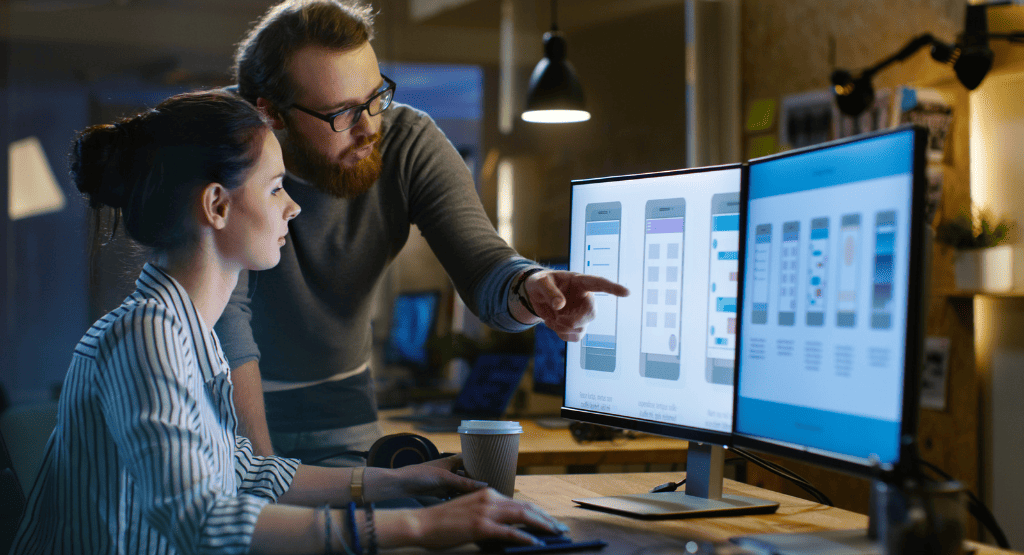 THE OVERVIEW
We helped one of the world's largest financial institutions attract a wealth of remarkable talent to their industry to reimagine experiences for the digital age.
THE CHALLENGE
The bar is highest for the best.
With over 200 years of history, 200,000 employees, and $2 trillion in assets, our client is one of the oldest, largest, and most well-known financial institutions in the world. This global enterprise has served over 66 million households, 5 million small businesses, and the world's biggest investors. The brand's banking business has nearly 5,000 branches.
As a self-proclaimed 'talent-driven company,' this exceptional client called for remarkable talent to upgrade legacy systems and execute a wide range of strategic initiatives. Reimagining employee and customer experiences alike, the company sought marketing mastery, creative excellence, and, most often, UX design delight.
The challenge was the industry; the world of finance isn't exactly known for the artistic freedom, exciting work, or relaxed culture that top talent often value. However, our client is far bigger than the average bank, and the brand takes pride in raising the bar. They just needed talent specialists and niche experts strong enough for the job.
THE SOLUTION
Know the brand, nurture the talent.
As the financial services company was in the midst of multiple digital transformation (DX) initiatives, we assembled top recruiters from our DX staffing task force. Over a series of strategy meetings, our team studied the nuances of the financial institution's open roles, business goals, and the perks that set the workplace apart.
Leaning into performance-based hiring practices, we evaluated thousands of candidate portfolios and case studies for right-fit excellence. Then, we nurtured the relationships to build a growing pipeline of leading experts. To win the top talent over, our team educated them on the impact and career moves they could make by working for our client. The best of the best agreed. We hired 100+ experts who could demonstrate strategic thinking, collaborate across functions, and deliver measurable results.
Onward Search went on to become one of the company's #1 talent partners. We've since introduced the brand to the metaverse, shared our digital accessibility expertise with client-side executives, and led private workshops for our client's hiring managers. Today, we consistently deliver top talent to the company within 48 hours or less. Together, our client and talent modernize legacy systems, maximize efficiency, and revolutionize experiences to propel the economy forward.
"The right candidate isn't always the industry insider or the practice veteran; it's the proven performer who can justify their decisions, collaborate across functions, and deliver excellence."
– UX Design Recruiter, Onward Search
BY THE NUMBERS
Relevant achievements and statistics to date:
Named #1 Talent Partner at the start of 2023
Filled 2X more open roles than our client's other staffing suppliers
Recruited 100+ hard-to-find hires
Always found candidates within 48 hours for our client
Earned extensions or full-time offers for 85%+ of contract hires
Built a talent network of 7,500+ designers
BY THE SERVICES
Workforce solutions that we provide to financial services companies:
Contract Talent
Contract-to-Hire Talent
Direct Hire Talent
Strategic Advisors
Managed Solutions
BY THE CAPABILITIES
Specialty areas that we leverage to support financial services companies:
Accessibility 
Content 
Creative  & Production 
Experience Design 
Gaming & Metaverse 
Marketing 
Operations & PMO
Technology
BY THE EXPERTS
Examples of roles we filled for our financial services client:
Art Directors & Graphic Designers
Copywriters & Content Producers

Marketing & Creative Project Managers

Digital Marketing Analysts
Email Marketing Specialists
Event Planners
Video Producers
Product Designers & Owners
QA Leads, Engineers & Analysts

Social Media Managers, Strategists & Coordinators
UI / UX Designers & Researchers
---
We don't just search; we solve.
Beyond staffing, we also equip the world's leading companies with fast, flexible access to strategic advisors and managed solutions. Check out Onward Imagine, our new way to redefine the power of design.
Request UX design talent.
Tell us what you're looking for, and connect with pre-qualified UX design experts.