Celebrating Pride Month
---
Career Resources for LGBTQ+ Professionals in Creative, Marketing, and Technology
Onward Search is proud to honor and celebrate Pride Month.
We are committed to helping LGBTQ+ candidates advance their careers in the creative, marketing, and technology space.   The following is a list of associations and organizations dedicated to educating and empowering  these professionals through advice, resources, networking, and job opportunities.
Please contact a member of our team if you have questions about your career or visit our job board for open opportunities. #DiversityinStaffing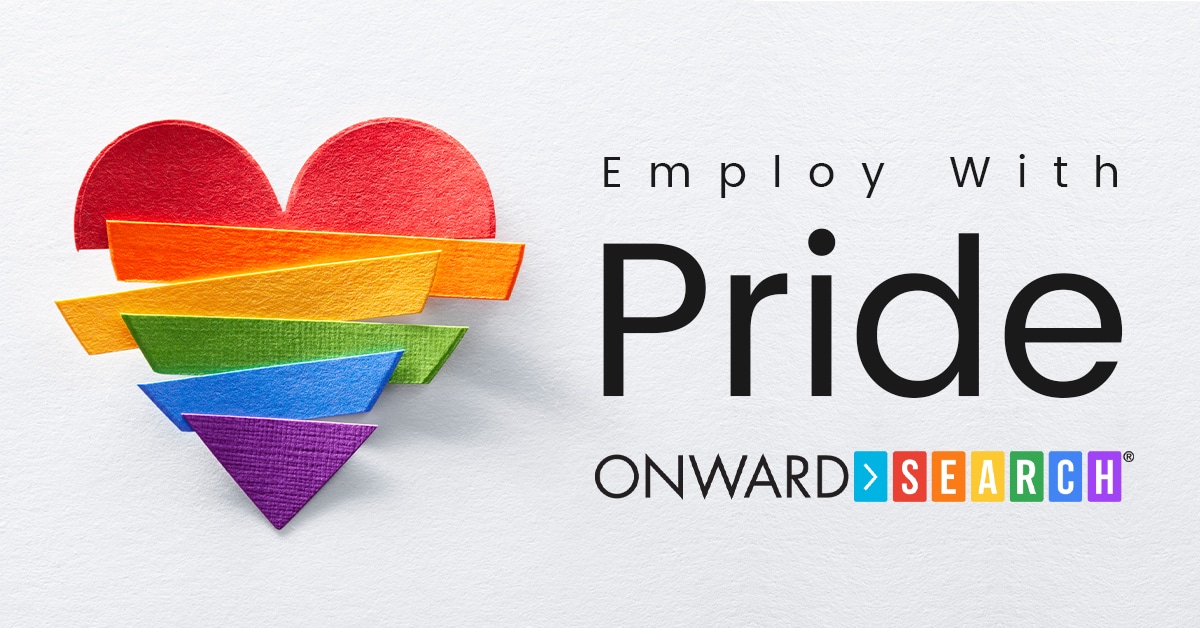 Resources for LGBTQ+ Creative Professionals
The Queer Creative
The Queer Creative podcast gives LGBTQ+ design professionals a platform to speak about their work.
How to get involved:
Listen to the podcast for advice and stories from fellow designers about the creative process, struggles, and defining what it means to be an LGBTQ+ creative in today's world.
QUEER|ART
QUEER|ART fosters the confident expression of LGBTQ+ artists' perspectives, stories, and identities.
How to get involved: 
Apply to their project-based mentorship program connecting emerging and established LGBTQ+ professionals in the creative space.
Design Resources for LGBTQ+ Professionals
Queer Design Club
Queer Design Club is a community where LGBTQ+ designers can celebrate their contributions to the design industry, share their work, and connect.
How to Get Involved:
Create a profile to join the network of LGBTQ+ design professionals across the globe.
Marketing Resources for LGBTQ+ Professionals
G Marketing Association
G Marketing Association is a Facebook community for LGBTQ+ marketers.
How to Get Involved:
Become a member of their Facebook group for exclusive events and mentorship opportunities.
 Resources for LGBTQ+ Technology Professionals
Lesbians Who Tech
Lesbians Who Tech & Allies is a global community of 70,000+ LGBTQ+ women, non-binary and trans professionals, and their allies in the tech industry.
How to Get Involved:
Sign up for their email list for information about their coding scholarship and early access to their annual summit.
LGBTQ in Technology
The LGBTQ in Technology Slack Channel is a safe space for LGBTQ+ people in technology to chat and support each other.
How to Get Involved:
Join the conversation on Slack by submitting this form.
Out in Science, Technology, Engineering, and Mathematics (oSTEM)
oSTEM is a professional society focused on celebrating LGBTQ+ diversity and contributions to the STEM community.
How to get involved:
Connect with other tech professionals globally through their membership to share technical knowledge, sharpen your professional skills and build your social network.
Out in Tech
Out in Tech is the world's largest non-profit community of LGBTQ+ tech leaders dedicated to advancing careers, growing their connections, and leveraging tech for social change.
How to get involved:
Apply to exclusive jobs for Out in Tech members.
Out to Innovate
Out to Innovate™ empowers LGBTQ+ professionals in STEM (science, technology, engineering, and math) by providing education, advocacy, career development, and peer support.
How to get involved:
Join their paid membership to access their member-only LinkedIn and Facebook networking groups and mentorship opportunities.
Queer Tech Club
Queer Tech Club provides professional development and networking opportunities for LGBTQ+ techies in the Chicago area.
How to get involved:
Join them on Slack.
TransTech
TransTech is an incubator for LGBTQ+ talent, focusing on economically empowering transgender people in the tech community.
How to Get Involved:
Invest in your career with a free membership to gain access to educational events, their Chicago co-share working space, and on-the-job training.
Want to be included on this list?
Email us with your website and a one-sentence description of your organization for consideration.