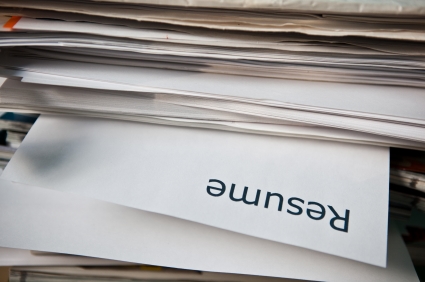 We all know how important it is to embrace SEO if you want your company to be found online. The most successful online branding initiatives are supported by well planned SEO practices, so if you're searching for a job these days, shouldn't you consider SEO for your resume as well?
In this edition of Onward Search's Upward Mobility advice column, we'll look at some of the most effective ways to search-optimize your resume so it can be found quickly and easily by hiring companies online.
1) Get your resume online.
Posting your resume on LinkedIn and Facebook is a great start, but setting it up on a separate piece of online real estate will help you gain more visibility. Here are some effective ways to set your resume up to get more SEO traction:
– Your professional blog is the perfect place to host your resume. Just create a separate page for it, link to it from your blog's home page (and other places) and create your title tags properly.
– Try one of the resume hosting and resource sites out there to build and maintain an optimized online resume. Visualcv.com, Resume.com, and Emurse.com are a few good ones and many of these are free to use which is an added bonus when you're searching for a job.
– If you have the web experience, use it! Secure the "Your Name dot com" domain and build an awesome website that will showcase your resume plus anything else you want people to know about your professional profile.
No matter how you do it, giving your resume a separate space will allow you more options to optimize and customize it so it lands in the top results when someone searches for you or professionals with your skill set and experience.
2) Research your keywords.
Your resume should speak precisely to the needs of your future employer so you should treat the keywords in your resume as the search queries a hiring manager will use to find you. Make note of the keywords you find in the descriptions of the jobs you want and incorporate them into your resume. Resume scanning programs and humans searching online alike will appreciate these matches and pay more attention to you as a result.
3) Build links for your professional brand.
Link building is crucial to effective SEO and you may not realize how many opportunities you have to point links to your online resume. LinkedIn, Facebook, Twitter, blog comments and every day emails all offer chances to share your link. Just make sure you avoid "rel=nofollow" links wherever possible here.
Many sites like LinkedIn set links to "nofollow" by default which garners no value from the search engines and therefore won't help boost your rank or visibility. You can, however, get extra link value on LinkedIn by choosing either the "Personal Website" or "Blog" option when you're updating your profile. These will ensure your full URL is posted to your profile, as opposed to a "nofollow" link that uses anchor text instead.
If you need an example, just take a look at the links on Tim Dineen's LinkedIn profile. He's the VP of Internet Marketing here at Onward Search AND a true SEO expert, so his is a good example to follow.
4) Measure your results.
The final key to any successful SEO campaign is measuring the results. Google your name and take note of what shows up. Do a search as though you were the hiring manager at the company you really want to work for. Does your resume or professional blog show up? If not, keep adjusting the elements of your resume until your results improve.
The recruiters at Onward Search are all well versed in the art of resume SEO, so if the above steps trip you up a little, there's help waiting for you here. Just give us a call or apply today!