[accent]When working in a web design job, figuring out your exact take home pay can be tough. Your compensation is going to be based on a much broader set of variables than most jobs so it's up to you to make sure you're getting what you deserve. Whether you're in-house or freelance, you can use this list to determine what type of pay you should be looking for from your next employer.[/accent]
Where Do You Want To Work?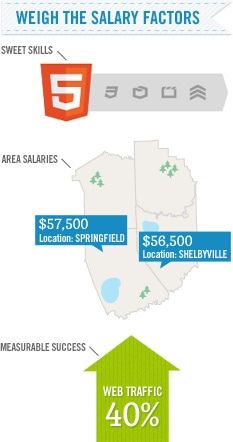 Pay rates for creative professionals vary all across the country, so it's best to start with finding out what the "norm" is for your area. You can rely on a variety of salary resources out there to establish a general idea of what you should be expecting from an employer or client in your area. Remember to incorporate as many specifics as possible into the equation (Experience level, skill set, etc) so you're not over inflating your compensation potential or selling yourself short.
Are Your Skills Up To Date?
Clients will pay more for outstanding, well designed results that move their brand and marketing in the right direction. If you are well versed in the latest HTML5 techniques or are particularly skilled at designing for specific products, make sure your going rate reflects that.
What Are Others In The Area Making?
Whether you ask your fellow designers for their input or you use any of the resources online mentioned above, find out what the most common going rates are. You may be happily surprised to discover what other designers are making because that gives you a baseline to leverage when you present your rate to a client or future employer.
Are You Going For In-House Or Freelance?
Freelance designers have vastly different expenses to account for when working out their annual take home so remember that a freelancer's annual may not fly for an in-house position. If you are figuring out your freelance rate, include your entire scope of operations, from purchases to travel, as you crunch the numbers.
How Successful Have You Been?
Your clients and/or employer will be willing to pay you more if they can see evidence of your past successes. Since web design is often such a subjective area, turn to the wonderful world of web analytics to pull concrete proof of your design skills. If the last site redesign you completed resulted in an increase of new traffic and a lift in conversions (with no other major variables to consider), you have the proof you need to raise your going price a little bit.
Nailing down the best price tag for your work and creative vision shouldn't be such a chore, but sometimes it is and luckily there are plenty of resources out there, like these, to make it easier for you.