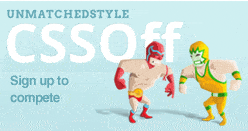 Get ready to show off your Front-End development skills, ladies and gentlemen! Onward Search is a proud sponsor of the upcoming  CSS Off Competition presented by unmatchedstyle.com and we want YOU to flex your creative development muscles in this "Friendly Markup Fisticuffs" challenge!
This brand new competition for Front-End developers of all backgrounds and skill levels is your chance to show the world just how slick your CSS and markup skills really are, and win some pretty cool prizes while you're at it.
Take your first swing by signing up to be an official contender and on October 20th, you'll receive a gorgeous PSD designed by Paravel. Once you receive the file, you'll have exactly two weeks to apply as much killer design mojo as you can muster to the original design, while staying within the competition's rules.
When you knock out the competition with the highest scoring design, you'll take home the Grand Prize which includes an Apple Macbook Air, 1 Bona-fide account from Wufoo, 1 full year of time tracking and online invoicing from Harvest, 1 pass to your choice of online conferences in 2012 Environments For Humans *and* the CSS Summit, $100 in stickers from StickerMule, and a $50 Font Voucher from FontDeck.
If that prize package wasn't enough to get you to step into the ring, Onward Search just donated the new Adobe Dreamweaver CS5.5 software toolset to the Grand Prize line up.
So what are you waiting for? Sign up today and start training to become the ultimate champion of unmatchedstyle.com's CSS Off!