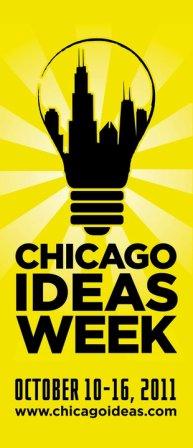 Hey Chicago, got any plans this week? No? Well that's about to change because anyone who loves, works, visits and lives in Chi-Town needs to check out Chicago Ideas Week 2011.  From October 10th through the 16th, Chicago will be full of amazing ideas, and the Onward Search Chicago team can't wait to meet you there!
With sessions and presentations planned at venues all over the city, this week long gathering of the world's top speakers and Chicago's best thinkers is designed to create an ecosystem of innovation, exploration and intellectual recreation. From high tech and interactive topics to the worlds finest teas, you'll be surrounded by cutting edge discussions that focus on the betterment of the city as well as the proliferation of concepts that will change business and the world as we know it.
Andrea, Tom, Frank and Nicole from Onward Search Chicago are most looking forward to the CIW MEGATALK -Mayoral Evening tonight, October 10th, at 6pm. As Frank Nicolia, Creative Recruiter, put it, "some of our country's brightest and most influential mayors will be on hand to drop some knowledge in us common folk."
With 100 speakers lined up for the program, there's no shortage of inspirational and thought provoking sessions to attend. Why not listen to President Bill Clinton do a one-on-one interview with TIME Managing Editor Richard Stengel on Tuesday then learn about the community-based design business, Threadless, on Wednesday? From there, the Reimagining the Future Economy session will shed some light on our financial future on Thursday, and then the Startup Weekend begins on Friday in which students focus on building mobile and web apps that can form the basis of a credible business – in just 54 hours!
Saturday and Sunday are not to be missed either, complete with sessions covering food, poetry, global community development and much more!  As a CIW Community Partner, Onward Search Chicago is proud to share this outstanding event with you and all hopes you'll pass the word along to everyone you know. We look forward to seeing you there!