No matter where you are in your career, it never hurts to brush up on your job market navigation skills. This week, Onward Search's Jesse Farran, Director of Staffing Services in Los Angeles, gave an informative presentation, "Onward! Upward! Increasing Your Chances For Success In Your Job Search." to an AIGA Student Group at the UCLA Extension. The audience was comprised of the soon to be grads, UCLA Alumni, plus hiring managers and Jesse's presentation provided something for everyone.
The event was a great success and the volume of attendees forced us to switch into a larger room to accommodate the mixed audience, some of whom traveled as far as Chicago. Each attendee was eager to to learn the best tips and tricks on how to create a stand-out resume and portfolio to embark on the application process.
Jesse's presentation revealed the "do's and don'ts" of working with a staffing agency or any hiring manager during a job search. He compared real-life examples of the best and the worst resumes and portfolios during segments of his presentation,  "Killer Resume's versus Resume Killers" and "Portfolios: The Good, The Bad and The Ugly."
Everyone in the audience arrived armed with questions and left well-prepared for the hiring process ahead, not to mention a little full of the famous Diddy Riese Cookies generously provided by our hosts.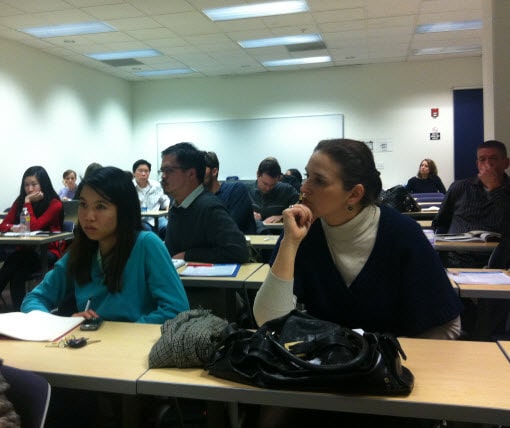 Jesse also covered very valuable insight on using social media to aid your job search, as well as how to dress to impress for an interview. As you can see, Jesse sets a fine example everywhere he goes.
"(The presentation) was definitely a dose of the real world that the students appreciated, and I very much appreciated it as my last event as president of the student group," Aileen, Tu, President of the AIGA Student Group.
We are pleased to announce that we are invited to return with a follow-up presentation during the next scholastic term for an even bigger and better presentation.
If we did not get a chance to review your resume and portfolio for critique, do not hesitate to send them to jfarran@onwardsearch.com, jhoward@onwardsearch.com or asalazar@onwardsearch.com for advice!  And as always, you can contact any member of the Onward Search teams for guidance on landing your next dream job, whether you're fresh out of school or a seasoned professional in your field.