So you are either reading this post from your smartphone, an iPad or your computer – the latter of which would be the most unacceptable for a trip to SXSW 2013. This year's SXSW promises to be by far the most attended event in SXSW history!
If you don't know (and shame on you) South by Southwest® (SXSW®) Conferences & Festivals (March 8-17, 2013) offers the unique convergence of original music, independent films, and emerging technologies. Fostering creative and professional growth alike, SXSW® is the premier destination for discovery.
We're excited to be attending for our second year in a row, with a team of representatives from across the country–some veterans and some newbies (like myself). For those of us that are going the SXSWi (Interactive) portion of the event is where we will be setting up camp. Our tools? Our smartphones.
From navigating sessions, to finding a new business connection, to scheduling appointments and organizing business cards, these are the best apps to navigate SXSW 2013&–and you don't even have to be a Techie to wrap your head around them all!
Events & Networking:
Number one, without a doubt, download the SXSW On The Go app. This app will enable you to keep track of your meeting sessions, share your schedule with others, and navigate your way through the trade show. Months before SXSW you should have been starring and connecting with people you want to meet.
Keep it simple when connecting, this isn't a hugely formal event and most interactions can be done over a beer or two. If you aren't able to set up specific times, do a little research. You can find out which events people will be at and attend them with hopes of bumping into said contact.
FEATURES INCLUDED:
Schedule
– Search/browse the entire event list.
Build your personal schedule or sync with your online account.
Discover
– Visually browse event media to build your schedule.
Share My Schedule
– Share your personal schedule with your friends and see what events your friends are attending.
Map
– Find venues, get directions
Search
– Quickly find events, venues or exhibitors via keyword search.
Tradeshow
– Search/browse Exhibitors
This is your source for all the events at SXSW — including most of the unofficial ones. You will need to RSVP to most everything taking place using Eventbrite. So sign up, use the app to show your tickets and party on.
Last year EventBrite had a full 435 events listed and they're expecting to show even more this time around. If you used the app last year and found it a little unwieldy, you'll be glad to know that they've done a lot to stream the process for this year's event, particularly by bringing the ticket widget directly into the listing. Find out more about how it's been improved on their blog.
FEATURES INCLUDED:
Discover
– Find local events and register for events on the go.
Accessibility
– View your upcoming events, tickets, and event information.
Search
– Now see who's going globally, find event codes for exclusive access.
Personalized
– Event discovery and personalized recommendations match your interests and passions.
Share
– invite your friends, share to all major social platforms, connect with attendees before, during and after the event.
A self-described combination of LinkedIn, Plancast, and Foursquare. Bizzabo's app allows you to sign in through your LinkedIn to search for events, share which you'll be attending, check in, and join event-networking communities. They've also built an event's social map for SXSW that'll help you find your way through what's going on.
FEATURES INCLUDED:
Discover –
Discover relevant future events, and find out who else will be attending them.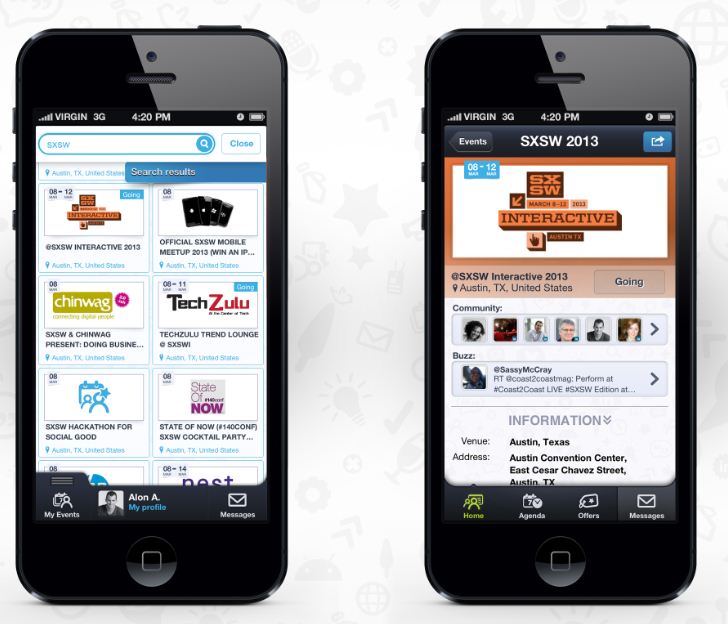 Interactive –
Interact with other attendees, and set-up face to face meetings on the spot Get suggestions for interesting people, custom-tailored to you by your personal business profile
Social –
Use Twitter to be a part of the buzz, and leverage LinkedIn to keep in touch with new connections
Insightful:
Get real-time event analytics and usage reports
Even with the nauseating logo, this is still one of the best SoLoMo (social local mobile) apps out there. The application uses your smartphone's location data and your Facebook account to find people who have similar friends and interests, and happen to be in your general vicinity.
The downside? This app definitely eats up your battery life! So make sure you're fully charged each morning and if you start to run low come take advantage of the charging station at the Onward Search booth (544) during the SXSW Trade Show.
FEATURES INCLUDED:
Connect
– Get notified when friends and other interesting connections are nearby
History
– Browse your history to see the people you were near earlier in the day
Privacy
– Manage your privacy with easy-to-use controls
Share
– High five, message, and post updates to the people around you
Updates include
: Facebook login, sharing and posting photos to Facebook and Twitter, new map view showing people and events nearby
If you're at SXSW to connect with businesses, search for a job, or simply to make new connections, this app is a space saver. No one wants to carry around business cards, and then later manually put them into your phone, email contacts list, or search for people on Linkedin. Simply take a picture of the card and it uploads it to your contacts and connects with the person on LinkedIn.
Now after leaving SXSW you won't be gazing at a business card trying to remember, where you met this person, why you took their card or trying to rack your brain to put a face with the name. This is an app you should carry around with you everyday not just for SXSW.
The downside? This app is only available for the iPhone.
FEATURES INCLUDED:
Convert and Connect
– Convert business cards to address book contacts, and then add them as connections on LinkedIn.
Search
– View relevant LinkedIn profile info, connections in common and work history
Accuracy
– Manual Transcription; every card goes through at least three human transcriptions, to ensure accuracy
No SXSW would be complete without a PARTY GUIDE! Shout 'Em had nearly 8000 downloads and over 250 parties listed on their Austin Party Guide App. There's even a blog inside the app that updates daily to give you the latest information on all events. You'll find every event from Drink-ups, film premieres, to label showcases–and the list grows by the day.
FEATURES INCLUDED
:
Parties
– Events/Parties schedule with location information and description.
Locations
– A list of event locations and area nightlife spots, with map view, and in-app social network check-in.
Videos
– Bonus footage from around Austin.
Connect & Share
– Check-in to events, share pictures and comments with others in app, as well as on Facebook/Twitter. Add your party profile, so others can find you around Austin!  
Getting around Austin can't get ANY easier than using Uber. All around the country you can use this mobile app help you request transportation in the palm of your hands. For SXSW, Uber will have 70 pedicabs on the system, several of the regular cars to take people further outside of downtown, and some surprises that people will start seeing during SXSWi.
FEATURES INCLUDED
:
Convenience
– The app lets your driver know precisely where to pick you up (geo-caching)
Easy
– Simply set your pickup location in the mobile app, or through the mobile site 
m.uber.com
.
Quick
– Request about 5-10 minutes before needing a ride and you'll receive a text when your car or pedicab has arrived.
Ride for Free!
– use the promo code 
RSVPSTER
 to receive a free ride (up to $15 off – valid through 3/14)

For more SXSW tips, news and UTD "what's happenings" follow me and the Onward Search Team on Twitter (if that's not an app you have attached to your hip- maybe you shouldn't be attending #SXSWi!)
Trying to head out to #SXSW having some weather issues here in Connecticut! Representing @onwardsearch for #Interactive !

— Jennifer Brabson (@jenniferbrabson) March 7, 2013
I've also embedded my SXSW Interactive Twitter list for your convenience. Follow and stay in the know!

Tweets from @jenniferbrabson/sxsw-interactive

Got anymore SXSW Tips? We wanna know.