If you're looking for a job in a creative, digital, or interactive field and you haven't taken a careful look at what's public on your Facebook profile, you're doing yourself a tremendous disservice. How you present yourself on Facebook can (and will) determine your chances of being hired.
Consider these numbers from Reppler.com:
91% of hiring agents use social networks to screen prospective employees
76% of these agents (69% overall) check Facebook as part of their search
42.8% of employees will check your Facebook after reviewing an application
69% of HR officers have rejected job applications based on social media reviews
68% have hired a candidate based on their social media presence
Don't forget that these numbers represent job opportunities in general. It stands to reason that the percentage of recruiters checking out your social presence within our industries will be much, much higher.
So what are these recruiters seeing? Log into Facebook and take a look at what they can see. Chances are there's a few things there that are best left unseen. Which begs the argument:
Why Not Hide My Profile Entirely?
Well, for starters, in a few months, you won't be able to. Facebook is phasing out the setting that eliminates your profile from searches. And then there's the fact that recruiters expect you to have Facebook, and if they can't find it, you may look suspicious to them.
Above that, what you have here is an opportunity to present yourself positively to your employers. Rather than locking down your profile (or deleting it), why not run a little maintenance? This is your chance to proactively impress your employer with your savvy, charismatic, and career-driven online persona. It's a simple law of business — turn every weakness into a strength.
You should be able to whip that profile into shape in four simple steps:
Step 1: Gain Control Of Your Existing Posts
If you've been updating your Facebook profile daily since 2004, there's simply too much to sort through. Instead, you can choose to automatically limit your old posts on Facebook (and by "old", they seem to mean anything before 2013). This leaves you with some recent activity to share, while saving you many hours/days in the archives. You can still go back and set individual posts back to public if you want.
Next, lock down your friends list. You have almost no control over their pages, and it's safest to keep them away from prying eyes. Additionally, Facebook has been rolling out a new feature called "Graph Search" that's going to allow your friends and relatives appear in searches associated with you. Locking down your friends list won't protect you from those searches entirely, but it will help.
As a final precaution, you may want to turn off search engine indexing to your Facebook profile. Many search engines cache your posts, which can make them stay visible in search for several months after you've removed them from the actual page.
Step 2: Prune Your Profile
A Facebook profile provides more recorded information about an individual — including where you've been, what you've eaten, who your friends are, etc — than any source in history. When sifting through that information, at least 12% of employers are going to specifically look for reasons NOT to hire you. Make sure your profile doesn't have that reason.
Eliminate These Red Flags:
Negative posts about your previous employer, or anything 

could be seen as confidential

Anything that indicates or implies that you lied about your qualifications
Content about drinking, drugs, or illegal activities
Discriminatory remarks
Content that demonstrates poor communication or writing skills
It's also a good idea to consider who, specifically, you're applying to when cleaning out your profile. For example, if you've got your fingers crossed for that job at Apple, it probably wouldn't hurt to unfan "Droid" for the time being. When clearing out your Facebook, be sure to delete the stories (as opposed to hiding them), as they will otherwise still be searchable through Graph Search.
Helpful Links:
Step 3: Clean Up Your Image(s)
When it comes to a job search, Facebook images are asking for trouble. Everyone's seen your old photos already: this is a great time to get rid of those old beach photos from college, toss up a professional-looking profile and cover photo, and make most of your albums private. This is also a good time to check out your tagged photos and unlink yourself to those fabulously embarrassing photos your friends have so generously posted and tagged you in. Facebook's new privacy features, rolled out in January, make this much easier to do — you'll be able to select multiple photos for untagging all at once.
If you go online anonymously, make sure your current profile picture is a different one than you use anonymously. Thanks to TinEye, it's easy to plug in that picture in and link you to many unexpected places on the web.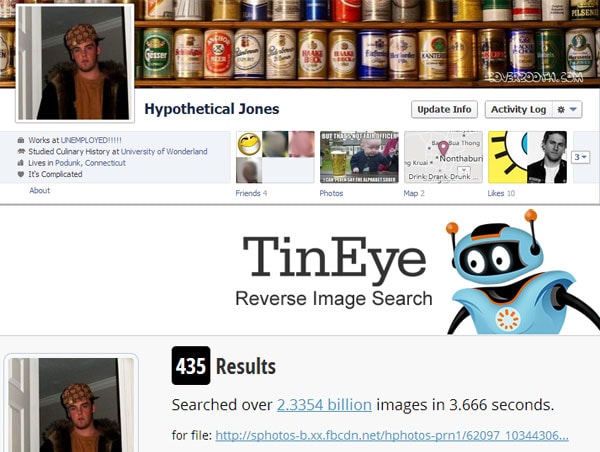 A reverse image search of the profile picture for "Hypothetical Jones" shows 435 matches. A search of your own profile photo will probably bring far fewer. However, it could create a link between you and an online account you might prefer to keep private.
It's also worth being prepared for the next batch of draconian privacy changes that Facebook will unleash without notifying you (think: The Great Betrayal, where private photos suddenly went public). If you have anything on there that would be REALLY embarrassing/scandalous if it went public, just get rid of it.
Step 4: Be Mindful With Your Future Content
The golden rule here is: "Think before you share." I would take it one step farther: "Think before your friends share." There's nothing worse than having to explain your friend's "Hey, were you able to get the day off for your interview tomorrow?" post to your boss. I suggest you turn off tag suggest for photos, restrict who posts on your timeline, and keep your e-mail notifications on.
When Graph Search goes mainstream, your public content will become much more public. People will be able to search for people who live nearby, who like a certain page, work at a certain company, and much more. Cross-filtering will also be possible "ex: People who work at Apple and like the Droid", and the game is going to change significantly.
One last thing: take the time to research what your Facebook apps are posting on your wall, and be careful with comments you've posted under your name in articles and news stories through your Facebook account. These apps and media outlets want to be found, and they will post publicly on your wall if you let them.
Once you've cleaned up your Facebook, it's time to be a little proactive about what the hiring managers will be seeing.
Do This With Your Public Facebook Page:
Reflect a positive, charismatic, well-rounded personality
Demonstrate solid grammar and communication skills
Reflect your passion for your profession
Show off your professional accomplishments and awards
If your hiring agent checks your Facebook before calling you for an interview, this is your first chance to show your face and make a good impression.  A little effort in cleaning up your image online can (and does) make all the difference between losing the opportunity and getting your foot in the door.
Are you job hunting? Our recruiters are ready to connect you with jobs in digital, creative, and interactive all over the country.  Take a look at our featured jobs, or apply today to get started on your next career!