[accent]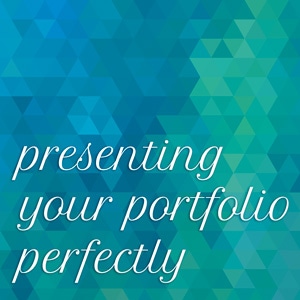 As much as you'd like your portfolio to speak for itself, you'll do most of the talking when you are interviewing and networking your way to your dream interactive job. Use these tips to ensure your portfolio presentation goes perfectly every time.[/accent]
Tailor Your Presentation To Your Platform
Are you presenting in person, over the phone, giving someone a DVD of your work, or just passing along the URL of your online portfolio? A portfolio that is being viewed actively and with your simultaneous guidance needs different treatment than one that's being looked at without your commentary.
When presenting your portfolio live, your material needs a narration; a script that you create ahead of time that tells the story of what you do and how you'll bring value to the table. If someone is viewing your portfolio without you, this same story needs to be provided by your work. Labels on slides, interactive pop-ups on your website, and even recorded narration on a DVD are crucial to ensure your audience "gets" your design message.
Think About What Your Audience Wants (Needs) To Hear
Presenting your portfolio is a lot like a sales pitch. You are offering a range of creative design solutions for your potential employer's problems. You'll have a much better pitch if you research them first, and pay close attention to the way the react and what they tell you.
Don't assume that your audience understands everything you're presenting. Make it easy for them to appreciate your inspiration, your approach to problem solving and offer as much info about your process as possible. If you aren't doing it in person, tailor your portfolio's narration to suit their specific needs.
Make Your Portfolio Easy To Share
There's a good chance more than one person will want to see your work before or after your interview. Making your portfolio easy to pass along is key to getting as many important eyeballs on it as possible. If it's online, find out what it looks like on a variety of browsers. Can individual aspects of your portfolio be shared easily via email? Is that disk you're handing out compatible with as many different players as possible? These should all be considered before you start passing your work around.
Everything You Present Should Sell You As Well
The idea of your portfolio isn't just to sell your work. It's to sell you as a creative component of a successful brand and business. When you present your portfolio, you're also telling the story of how you join the team, solve design problems, bring fresh and valuable new ideas to the table, and ultimately boost your employer's bottom line.
Your portfolio is a glowing, carefully constructed, impressive representation of the design value you bring to the table. Now that you've got it in perfect shape and it captures the right balance of beauty and substance, the perfect presentation will get you that much closer to your perfect job.
To find out more about creating an interactive design portfolio, check out the Onward Search Career Cast page.