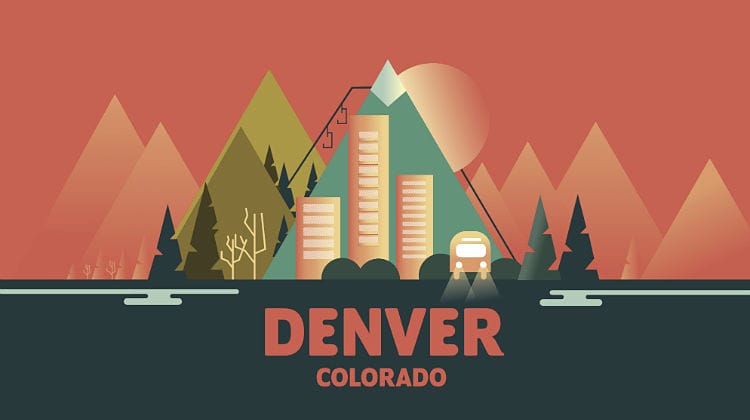 The Mile-High City has always been known for it's breathtaking vistas, world-class beer and progressive culture. And, today, those qualities and more are drawing businesses and creative talent to Denver in droves, including Onward Search who set up shop at the start of 2017.
This new wave of business investment, coupled with a nationwide shortage of skilled creative talent, has left many managers in the marketplace asking themselves, "how do I hire creative talent in Denver?"
To help provide some insight, we sat down with the head of our Denver office, Danielle Roth, to discuss the Denver creative space.
5 Questions with Onward Search's Danielle Roth on Hiring Creative Talent in Denver
Over the last few years Denver has really become a destination for innovative companies and leading digital, creative and marketing talent. What's drawing so many to the Mile-High City?
I think it's a combination of lifestyle and the burgeoning commerce that is attracting an increasing number of people and companies. People in Denver and Boulder are known to live very active lifestyles, prioritizing a balance of work and play. That paired with the beautiful landscape, an accessible (but rising) cost of living, and a developing food culture is putting it on everyone's maps as a desirable place to live and work. It's also a very forward-thinking community that wants to grow. We're vying for Amazon's second HQ to be located here, we're finalists for Elon Musk's Hyperloop One project, and Denver International Airport is getting a $1 billion overhaul – all signs that the growth isn't stopping anytime soon.
Onward Search helps businesses attract, engage and hire a wide range of creative talent. What are some of the demands you're seeing the Denver market right now?
UX/UI Designers
and
Web Developers
are hugely in demand here. Unfortunately like most creative talent, these professionals are hard to come by. Nearly every company we've come across has such needs, making competition immense for a small pool of creative talent. It's one of the reasons why so many businesses and agencies find it really helps to have a partner in the space with reach and an established network of candidates.
Creative types have always been difficult to hire, but it's only gotten harder as demand has skyrocketed in our increasingly connected worlds. What are some of the biggest challenges you see client's facing in today's talent market?
In today's evolving economy, businesses really do find themselves in talent-driven markets which tend to present a few challenges.
For one thing, Denver is really becoming a top destination for businesses and creative talent alike, and as you can imagine this has driven up the cost of living around the city. Businesses, therefore, need to be prepared to negotiate with both competitors and Denver's cost of living in mind.
Another challenge new and growing companies might face is a physically small market. As a city that is still growing itself, all of the creative talent that Denver needs simply may not be in Denver just yet. While companies are always eager to discover new talent moving into the city, this usually requires they go outside of their go-to networks. This is a big area where we can help by providing established talent networks and nationwide reach.
What's the most important thing for hiring managers to keep in mind after identifying prospective candidates and beginning the interview process?
It's imperative that hiring managers remember that the interview process is a direct reflection of their brand. From the way the receptionist interacts with them, to the amount of time the candidate must take to interview, to how transparent the interview process is, to even how they are rejected, if that is the case. These are all steps that can make or break a candidate's perception of your company, and even if you don't think they are a fit, understand that they will talk about that experience with other people in the market.
What are the benefits of working with an expert like yourself during a talent search?
There are a few. Our network of talent is comprised of people who are looking passively, actively, and/or confidentially, so we can essentially open the door to a much wider pool of candidates than any one person or company has access to.
We also take a significant portion of the legwork off our clients' plates by vetting every candidate that we represent before ever sending them to a client. Being experts in the digital and creative space we lend a trained eye to the selection process, and hand pick the top talent we pass along to our clients.
What's the best way to get in touch with you and to learn more about recruiting digital, creative and marketing talent?
Hire Creative Talent in Denver
Contact us today to learn how Onward Search and Danielle's team can help you hire top creative talent.