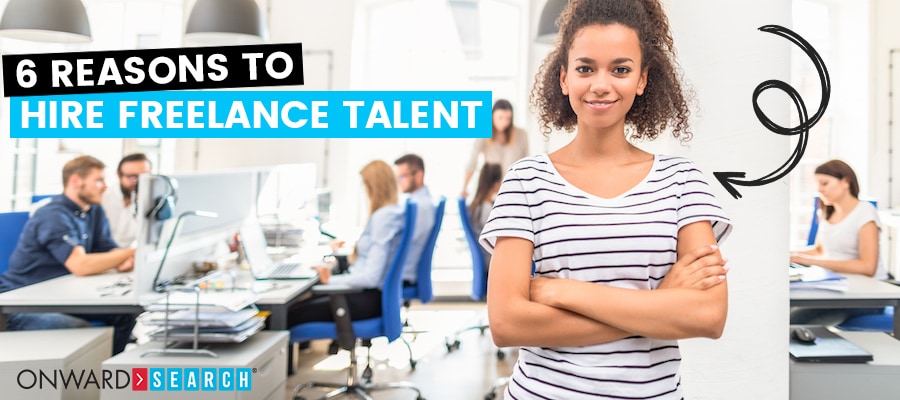 Hiring a freelancer used to be something big advertising and media agencies did to keep their payroll costs down, but in 2019 millions of other savvy businesses are realizing the benefits of hiring freelance talent. According to a Future Workforce Report from Upwork, 59% of U.S. companies are now using flexible work forces to some degree, including remote workers and freelancers. 
But what makes this growing segment of the workforce so appealing to today's corporations?  Here are six reasons why hiring freelance talent may be a good decision for your organization.
Reduce Payroll Costs
One of the most effective ways of cutting payroll is to hire freelancers for project-based work. In fact, according to a report by Business Law Today, companies can save up to 30% on payroll by hiring freelancers.
Because freelancers are (usually) independent contractors, you pay them a flat fee or hourly rate and the contractor is responsible for their own employment and social security taxes, medical insurance, vacation, and other associated payroll expenses. In the case of a staffing agency such as Onward Search, these items are managed by the agency. (Note: Some states have term limits for the length of time a business can employ a freelancer without offering full or part-time employee benefits; check with your state's Department of Labor for more specifics.)  
Freelancers are Highly Skilled and Well-Connected
Freelancers have to compete for projects continually. This means they are proactive about keeping their skills sharp and relevant—and they network to ensure prospective referrals and clients know about their recent work. From media producers to freelance copywriters, to marketing consultants, experienced and talented creatives have made the decision to go freelance, as it gives them greater professional freedom, while still doing the work they do best.
Fast (or Faster) Turnaround
Many hiring managers share a concern that because freelancers often work off-site, either in a home office or coworking office—they will not be able to manage the contractor effectively. However, because professional freelancers work at their own speed and manage their own workflows and schedules, they are often able to deliver high-quality work faster than if they were dealing with in-office distractions.
Freelancers Tend To Be More Innovative
Because they know they need to keep their skills sharp, freelancers tend to be more innovative. They also tend to be early adopters of new technology and well-informed about trends and best practices. A freelancer is likely to be confident stepping in and presenting solutions to benefit your business with a fresh perspective, as they won't have the historical view of how things have always been done the way a staff member would.
Staffing When You Need It Most
Every hiring manager has dealt with an employee emergency or unexpectant medical or maternity leave which threatens the efficiency and competency of a team—especially when under pressure with a project deadline. Freelancers are used to dealing with deadlines, and many take on rush assignments. In fact, many freelancers don't adhere to the "traditional"  holiday schedule and may be available to work during times when your regular staff may have scheduled time off.
Gain a True Expert, Temporarily  
When a particular project arises—for example, when your business needs a new website design—it may make sense to outsource to an independent contractor to get the job done, rather than hiring a new staff person, particularly if you won't need a full-time webmaster once the site is overhauled. By hiring a freelance web designer or developer, you can get the expert help you need to complete the project, without taxing internal resources or adding a permanent position to your payroll.
When considering hiring a freelancer, many managers interview candidates by looking at their resume and a few work samples, but asking questions specific to the prospect's work habits, approaches, and processes will reveal more about their potential fit for the company's needs. For a list of interview questions specifically geared toward hiring freelancers, read more on our blog.
Hire Freelance Talent Today
Let Onward Search help solve your hiring needs. Schedule a call with a recruitment specialist today.