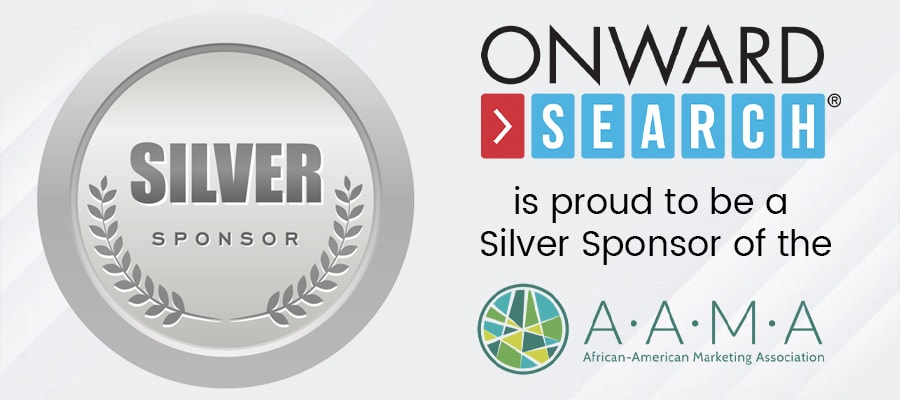 We are very excited to announce that we have signed on as the inaugural silver sponsor for the African American Marketing Association (AAMA).  The non-profit organization has a mission to foster the growth and professional development of African-American marketers, creatives, and entrepreneurs.
The AAMA is headquartered in Houston, TX with a growing network of members across the United States.  It was founded in 2019 by Michelle Ngome, an established author, speaker, and podcaster and founder of Line 25 Consulting, a marketing firm focused on inclusive marketing.
"As we actively engage in increasing our membership, we want to partner with entities that are serious about diversity and inclusion and are aligned with our mission," said Ngome, who is also President of the AAMA. "We are impressed with Onward Search's commitment to D&I and look forward to supporting their efforts in areas such as recruitment, supplier diversity, and community visibility."
As an AAMA Partner, we look forward to helping provide educational opportunities, quality programming, and professional development for African-Americans and other diverse marketing professionals. Our company will be participating in joint webinars, social media cross promotion, and co-branded outreach to help drive awareness and increase membership.
"We are thrilled to join forces with the AAMA," said Ken Clark, CEO of Onward Search. "Our company strives to attract diverse talent, empower voices equally, and give back to non-profits that align with our mission of matching great talent with great companies. The AAMA unites all of these goals and we look forward to working with them to advance the careers of African American marketing and creative professionals."
For information on how to become a member of the AAMA, visit the AAMA membership page.
For more information on Onward Search's D&I efforts, visit our Diversity and Inclusion page.