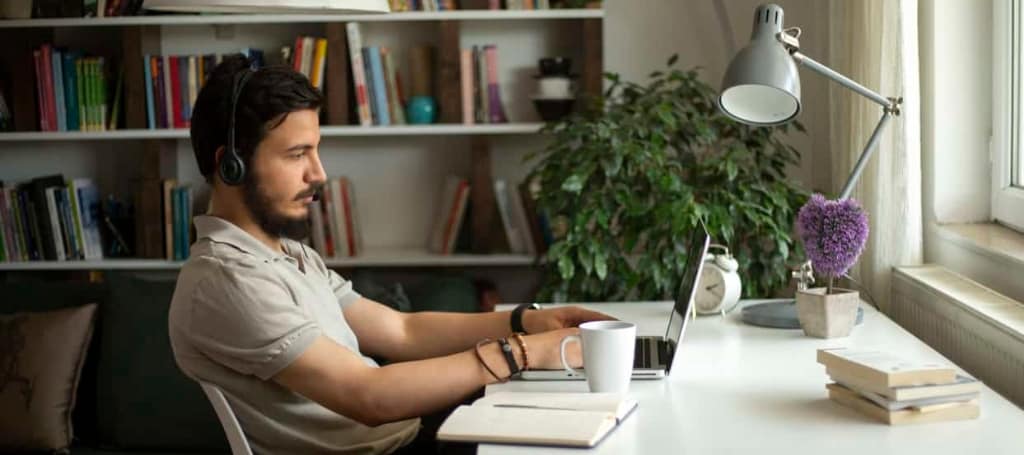 Virtual interviews mean more prep, not less. And virtual is the new normal. 92% of employers plan to continue using remote interviews throughout 2023 and beyond. 82% of marketing, creative and digital professionals work entirely remotely.
The new hiring process is as convenient as it is efficient, but it isn't easy. The rules have changed. There are plenty of new mistakes for candidates to make. And some interviewers will penalize you for the mistakes that your technology makes. If your interview isn't in-person, traditional preparation isn't enough.
After you've researched your interviewer, prepared for every conceivable question, and perfected your job-winning stories—follow these virtual interview tips to make your first impression your best:
1. Choose your location wisely.
Set your interview up for success by setting your computer up in the right spot; find a quiet space with good lighting and a strong Wi-Fi signal. Always check the lighting on camera ahead of time, and remove all distractions. Interviewers may take notice of your focus and define who you are by where you are.
2. Get your background together.
In a virtual interview, your surroundings are often more important than your attire. Be strategic about what you show on camera. Select a professional virtual background, or organize your actual background. Never include your bed on camera. Keep it clean and bare, or business-oriented.
3. Look good and feel good.
Formal is no longer the norm, and your comfort can improve your performance. However, professionalism remains an expectation. You can never go wrong if you select a stain-free, wrinkleless outfit that mirrors the company dress code. If no dress code is available, business casual is almost always acceptable.
4. Remember that resume.
You can't hand your interviewer your resume remotely, but that doesn't mean you shouldn't have it for reference. Your interviewer will have it in front of them, and you should too. Prepare your resume and any notes you may need. Be ready to refer to them, but don't read from them.
5. Check your tech.
Virtual interviews only go as well as technology allows. Ensure yours goes flawlessly. Make sure you receive the video call link in advance. Familiarize yourself with the platform on which your interview will take place. Check your camera, microphone, Wi-Fi signal, and any other tech that needs checking.
6. Arrive early, even remotely.
When your interview is virtual, you can still be punctual. If you're late, you're too late, but there is such a thing as too early. Show up to your video call 10-15 minutes early—no more, no less. This timing will help prevent technical difficulties and showcase dependability with respect for the interviewer's availability.
Finally, remember that classic in-person interview tips often apply to virtual interviews as well. Be sure to put those time-tested best practices into action, and send a well-written thank you note to anyone who ever interviews you. In a competitive job market, the most common interview advice could be the difference between your next job offer and a rejection letter.
---
Our job is to find your dream job.
We are creatives, marketers and digital wizards who use our talents to help talented people thrive in the future of work. More than recruiters, we pride ourselves on being true partners, talent advocates, and trusted advisors who measure our success by yours. Join us.
Need a solution or a job?
Ask us about our total talent solutions or career-changing opportunities.