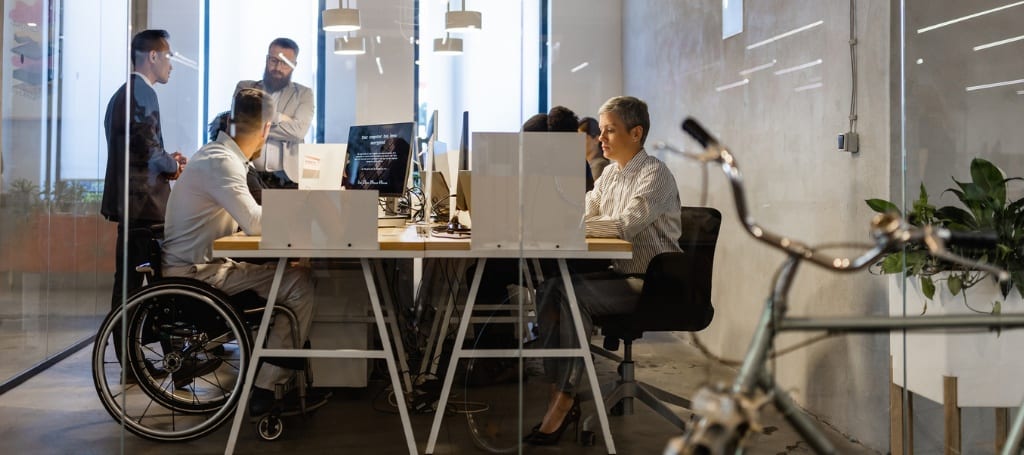 Raising awareness is only the first step to bringing accessible and inclusive experiences to life at scale. In the corporate enterprise, addressing accessibility questions and ensuring inclusivity is paramount to navigating the complex path to success.
Onward Search's recent interactive panel discussion equipped participants with actionable insights on the topic of "Operationalizing Accessibility and Inclusive Design in the Enterprise." We were joined by a panel of leaders from brands like CVS Health, The Home Depot, Spotify, Atos, General Motors, and Disability:IN.
At the end of our discussion, panelists received quite a few inclusive design and accessibility questions from an audience of over 150 attendees. Below is a summary of those questions and responses from:
Monica Goel, Executive Director, Accessibility, CVS Health
Ricardo Garcia, Digital Inclusion Consultant, Atos
Sukriti Chadha, Product & A11y Leader, Spotify
Ray Killebrew, XD Strategy & Solutions Leader, Onward Search
Hannah Wagner, In-Vehicle Accessibility & Inclusive Design Lead, General Motors
What are some examples of demonstrating the value and impact of accessibility to gain buy-in from stakeholders?
Monica Goel: 
Track customer complaints from people with disabilities and track progress. Any reduction will provide value.
Brand recognition: Conduct studies with organizations that can survey people with disabilities on how they perceive the brand.
PWDs have a total of $1 Trillion dollars to spend. Demonstrate how the organization can get a piece of this.

Ricardo Garcia: [Share statistics like those below:]
7.15 million disabled internet users have access needs
€30 billion is the online spending power of persons with access needs.
70% of customers with disabilities leave a website if it is too difficult to use or has accessibility barriers. The result is €19.2 billion of online shopping revenue is LOST!!!
80% would pay more money for the same product on another website that is more accessible.
86% would spend more if there were fewer barriers.
83% only use online shop that they know that are accessibility barrier-free.

Ray Killebrew:  Reduce the risk associated with litigation and the impact of bad PR. In my previous roles, I worked with our internal and external legal teams to address several potential litigations which could have been a huge financial hit to our bottom line.
We were able to reduce the financial impact from millions of dollars to a manageable out-of-court legal agreement based on the maturity of our ADA accessibility program and policies. Plus, our actions reduced any negative press. A good legal team should be a part of your internal committees and task force.
Useful Resources:
Are any of our panelists aware of any efforts to leverage AI/ML in the identification and remediation of accessibility defects?
Monica Goel: We are in the early stages of looking at AI with the recent changes in AI.
Sukriti Chadha: Google and Meta both have incredible efforts in this area. ASR, image recognition, voice recognition, and viewing surroundings for visually impaired users are all use cases they are working on.
Can automated testing replace manual accessibility testing, and if so, how?
Sukriti Chadha: Not replace, complement. I go in-depth on this in my book, Beyond Accessibility Compliance: Building The Next Generation of Inclusive Products, Chapter 6, where automated and manual testing is covered.
Ricardo Garcia: No, automated testing cannot replace manual testing at this time because of the wide spectrum of disabilities and the human impact.
I agree with Monica. Just like AI, these are good tools that should be in a multi-discipline (Design, Frontend Dev, QA, etc.) toolbox but you should not exclude manual (putting yourself in users shoes and using the users environments). And use actual users with disabilities. Trust me they will find things that you can't find with ADA automation tools.
In the next few years, we may see some signs of the capability of AI in detecting WCAG success criteria failures in an automated way; however, there will always be errors only humans can detect and diagnose.
Other Useful Resources:
What do you think about the idea of using job descriptions to show to job candidates that accessibility knowledge is valued in development and design roles (which would hopefully drive self-education)?
Monica Goel: This would be a good idea just as long as the position can also provide the candidate with support and work in this space because Accessibility work is ever-changing.
Ray Killebrew: Just like producing a good customer experience, I believe we all should have some responsibility and a role. Some will have more of a direct responsibility and will be more accountable. Inclusion is definitely something that should be highlighted in job descriptions and [job description creation] could be addressed in your overall Inclusion strategy.
How does neurodiversity fit into your overall accessibility programs?
Monica Goel: It fits into our Diversity & Equity program that works on developing a program to educate and enable leaders to hire people on the Neurodiversity spectrum.
Ray Killebrew: It should be a part of your accessibility and inclusion strategy just like other areas that should be addressed. I wouldn't separate. I would also connect HR efforts with teammate support, training or assistance. A recent Forbes article, Neurodiversity and the Workplace addresses this subject.
Hannah Wagner: Accessibility is about access and the ability to participate for all. So, I think it's important to either make neurodivergent disabilities central to or separate from accessibility programs holistically. Neurodivergent people are an integral part of the disabled community.
That said, specialized accommodations, product solutions, and/or sub-community groups can be valuable supplemental tools (and not just for neurodiversity). My best advice is to listen to the neurodivergent community. They will inform you on their needs and wants. I hope that answered your question!
As WCAG 3.0 is going to be published in the next years, are you already thinking about an efficient strategy for its adoption in your organization?
Monica Goel: We are members of W3C, which gives us insight to what is coming and we can plan better. We have created an assessment and evaluation model, which allows us to handle adoption efficiently when it comes creating how to test models. Having said that, where the most work is, is in understanding the new success criteria, its impact and how to apply it. That's something one will have to do no matter the method of operationalization.
Ray Killebrew: You can already find some proposed changes to the WCAG guidelines. Useful resources include the W3C Accessibility Guidelines (WCAG) 3.0 Working Draft and a recent Forbes article, The Future of Web-Accessibility: WCAG 3.0.
What sort of KPIs or data do you use to show the value of accessibility efforts outside of social good that it generates?
Monica Goel: Reduction in customer service complaints, reduced risks, and risks that are mitigated from both internal and external hiring. Additional KPIs are private.
Ray Killebrew: I set goals such as:
Provide governance and oversight over the company's digital properties and digital accessibility initiatives.
Provide digital accessibility consulting, best practices and tools to support the the company's digital brand and enterprise.
Raise digital accessibility competency throughout the company with a current training and educational material.
Support digital projects with an array of UX and usability services to assure great experiences for all
Embrace accessibility as an opportunity to go beyond compliance, deliver on our brand promise, and delight all.
Design for differences across our user base; understand their needs and help everyone accomplish their goals.
Build to accessibility standards to ensure a stable, robust and secure experience across a broad range of devices.
Create a richer client experience that benefits our business model.
Align inclusive design and accessibility to core company values.
You explained that many candidates do not self-identify as disabled when starting the interview process. What questions should recruiters ask all candidates to ensure that we are providing a candidate experience that is safe and respectful?
Monica Goel: Recruiters should always focus on ensuring the position is open to all. Asking leading questions to extract information on disability is problematic and should be avoided. Organizations should focus on ensuring their organizations have the tools and services in place to welcome all.
How should talent go about coming out as "disabled" in workspaces?
Monica Goel: Leadership should ensure all colleagues are welcome. Leaders with disabilities should take the first step. Share organization services and programs in support of colleagues with disabilities.
Celebrate colleagues from all backgrounds, abilities and disabilities and do it consistently. Colleagues will start to feel they are welcome, wanted and give them a way to self-identify.
Do any of our panelists have recommendations for those of us who are pressed to build a business case for accessibility remediation that is focused on the quantifiable risks, costs and benefits?
Monica Goel: It depends on the organization and the products or services they provide. When building a business case, think about the products and services you offer. Who are your consumers? Are they B2B, B2C, or both?
Google search will give you statistics of how many people have disabilities. You can use those numbers to project out statistics within your organization's customer base.
For example, if there are 1 in 7 people with disabilities, use this factor to determine the number of customers with disabilities the organization will have. Connect with your Customer Support and legal teams about reported concerns.
Ray Killebrew: Consider starting with an internal workshop that includes representation from Business, Product, IT, Legal, Marketing, Brand, Compliance and… Finance. This is a recommended first step.
Then, present the problem or challenges with some potential areas that could impact the company, and their specific departments (positively or negatively). Also, have some recommendations ready to address the questions of "Why do I really need this and why should I reprioritize my current initiatives?" Start with small wins that grow big gains and awareness.
How might a company ideate around next accessibility steps when people with disabilities aren't able to participate in the ideation directly?
Hannah Wagner: I would argue that there's always a way to get the disabled community involved in the ideation process. The more touch points where you can bring in the community, the better your results will be. "Empathy work" is a great starting point where teams listen and identify pain points before determine the problem/solution. "Co-Design" brainstorming sessions can be included in ideation, followed by rounds of user testing, feedback, and/or QA testing from people with disabilities. And, above all, hire people with disabilities!
Monica Goel: It is key that organizations hire people with disabilities so PWDs have a voice at the table. In the interim, you can partner with organizations like Fable, NVAccess, and many others, by setting up inclusive research for ideation steps.
Ray Killebrew: Create a working panel group and include them in your innovation and ideation process. I created field working groups with our clients and Reps with various disabilities or working challenges. They were all excited to be heard and appreciated being included. I call them the hidden heroes.
How can we shift our mindset as designers in order to design for accessibility "not from anxiety but from innovation?"
Monica Goel: When we have inclusive and diverse teams and people with disabilities are part of the team, the process is very organic because by nature humans understand when a team member is impacted. This is a very organic way.
Another approach is, by having user personas that have various disabilities and with each User Persona, there should be a background story. This also helps designers think through solutions for all personas. Storytelling is very compelling.
Ray Killebrew: I created ADA training for designers, product owners, front-end developers and QA. The training was well-received by our academy.
---
Onward Search has built a network of 5,000+ accessibility experts. Together, we empower leading brands to recruit top talent, access veteran advisors, and put accessibility into action.


Speak to an accessibility expert.
Partner with specialists to make your experiences accessible for all.