PRESS RELEASE
Onward Search Named Best Companies to Work for Women
New Role will Focus on the Growth and Expansion of Onward Search, Onward Select and Onward Play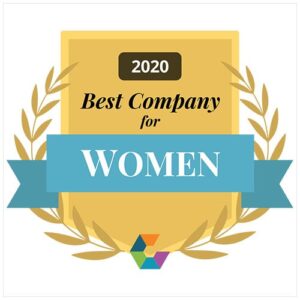 Onward Search has been named to the list of "Best Companies for Women 2020" by Comparably, an employment review site with the mission of "providing the most accurate and comprehensive compensation and culture data."
Comparably's awards are dependent on employee feedback and ratings in categories such as professional development, perks and benefits, office culture, leadership, and employee happiness. Onward currently maintains an A+ average by female employees and ranks number one for gender score amongst creative staffing agencies.
"The organizations on our 4th Annual Best Companies for Women list understand the importance of providing an inclusive culture for all voices in the workplace," said Comparably CEO Jason Nazar. "Female employees from these top-rated businesses applaud having a combination of fair pay, career growth opportunities, work-life balance, excellent benefits, and more."
"This award is a tribute to the culture we have created where not only women, but all of our employees, are respected, valued and given a say within our organization," said Ken Clark, CEO, who was named to Comparably's list of the "Best CEO's for Women" earlier this year. "We're committed to cultivating a talented and diverse workforce where people of all backgrounds can grow their careers."
Onward Search is an industry-leading staffing agency with the mission to connect the best creative, marketing and technology professionals with jobs at the nation's top companies. 2020 internal data showed that 58% of the company's employees are female. Onward has been previously been recognized as a top employer by Forbes, Hearst Media, Small Biz Trends, and UpCity amongst others.
About Onward Search:
Onward Search is an award-winning recruitment and staffing agency with the mission to connect the nation's top companies with the best creative, marketing and technology talent in the industry. Founded in 2007, the company is headquartered in Wilton, CT with regional offices across the US servicing clients in all 50 states. Onward Search also has a dedicated technology staffing division, Onward Select, and a dedicated staffing division for gaming companies, Onward Play.